Palm Treo 680 smart phone
Bringing the price-fight to Windows Mobile
The 680 is unlocked, and inserting a given network's SIM card triggers the phone's automatic network set-up app, which pre-configures connections for your carrier. I used an O2 SIM, and once the handset was up and running, I was able to make GPRS connections without the need to key in access point details, passwords and so on. VersaMail is likewise pre-packed with data for a host of ISPs from around the world. It's smart enough to makes sure your outgoing emails are sent via your network's SMTP server rather than your ISP's.
You can use the 680 to connect your computer to the internet via Bluetooth and the cellular network, though you'll find is slow if you're used to a broadband connection or 3G. By the way, Mac users can find modem drivers here. The 680's Bluetooth connection can be used for headsets, but there's no support for wireless stereo as there is with the 750v.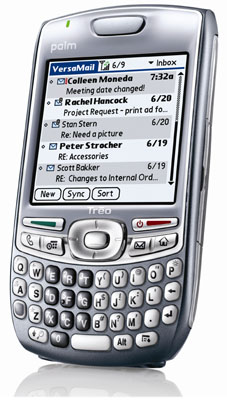 Palm claims a battery life of six hours' talk time and up to 12.5 days on stand-by. With a mix of calling, GPRS web access, a little music playback and Bluetooth on I got just over a day's real-world usage out of the battery, which is disappointing - I'd expect to get a couple of days at least. With Bluetooth on, the battery's charge dropped from 26 per cent to four per cent overnight. Forget to charge your Treo and you run the risk of ending up with a brick in your pocket. So expect to charge your phone up every evening, or buy a cradle and keep the 680 charging when you're not out and about.
On the other hand, the price is impressive. Palm's asking £299 inc. VAT for the 680 - £100 less than the last few 650s cost. You'll have a hard job getting a QWERTY keyboard-equipped Windows Mobile phone for that kind of money, certainly not one that's not tethered to a specific network.
Still, if you already own a 650, the move to a 680 isn't a compelling upgrade. Yes, the 680 is better, but it's not as much a leap ahead as, say, the 750v is thanks to its 3G connectivity. But the 680 is a good handset for folk who want to move up from a Palm PDA and a separate phone, or from a standard phone to a smart device. Like all Treos, the 680 is one of the best attempts to fit a usable QWERTY keyboard and a big screen into the smallest possible handset. I'd much rather use a Treo than Nokia's E61, for instance. RIM's BlackBerry Pearl may be smaller, but you're forced to use the predictive text entry technology.
Verdict
The Treo 680 is a step up on its predecessor, dropping the 650's antenna stub, improving its software and increasing its memory size. It's just a shame Palm couldn't squeeze rather more out of the handset's battery. But the 680 is competitively priced, and while it may not be a must-have upgrade for 650 owners, its keen price should win over more supporters to both the Treo family and the Palm OS. ®

Palm Treo 680 smart phone
A great smart phone at a cracking price...