Moving on, it's worth listing the read/write speeds of this drive just to be clear about its capabilities. A number of things stand out in the list: there's no writing support for dual-layer Blu-ray, the CD writing speeds are pathetic and DVD°R speeds aren't impressive either, now that 16x and 18x speeds are the norm.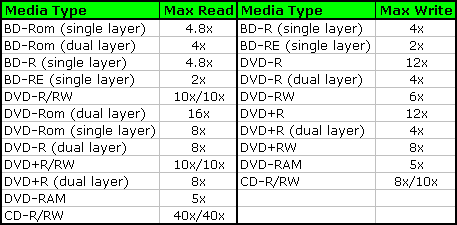 In short it seems unlikely anyone would dump their £25 Super Multi Drive in favour of a Super Multi Blue drive. You can stick any optical media you like in this drive and it will probably read it but what we're interested in is the BD-R and BD-RE write speeds.
Burning 16GB of file to a Verbatim 2x BD-R DVD took 16m 13s which is as close to double the speed of the Pioneer as makes no odds. It was a different story when we burnt 16GB of data to Verbatim 2x BD-RE media as it took 1h 28m. We switched to TDK 2x media and the burn took exactly the same time. We formatted the Verbatim BD-RE DVD with InstantBurn to UDF format and then dragged and dropped the 16GB of files in Windows Explorer which took 59m. That's considerably faster than the ISO 9660-based burns but still painfully slow.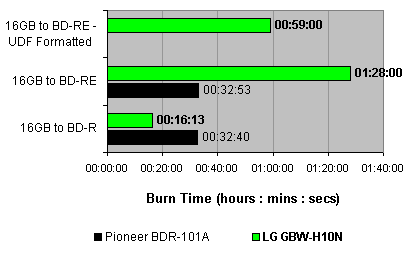 We also burnt 4.1GB of data to Verbatim 16x DVD+R media in 5m 46s and 4.1GB to Verbatim 16x DVD-R in 6m 12s which is reasonable but significantly slower than any DVD writer currently on the market.
Sponsored: Webcast: Discover and secure all of your attack surface