As for software, LG supplies a CyberLink package called BD solution which consists of PowerDVD v6.6 BD, InstantBurn v5.2 for UDF Packet writing, Power2Go v5 for DVD writing, PowerBackup v2.5 and PowerProducer v3. It costs £25.32 including taxes to upgrade to PowerProducer v4 which adds the features to capture, record, author and burn Blu-ray and HD DVDs.
You also get a utility called BD/HD Advisor which scans your PC to see whether the processor, graphics card, optical drive, software and display can handle Blu-ray. Our test PC came up to scratch with the exception of the driver for our GeForce 7950 GT graphics card, which needed an upgrade from Forceware version 91.47 to 93.71. With that done we were able to watch Blu-ray movies, although we only had Lethal Weapon to hand. Nevertheless, we gave it a viewing on your behalf and very nice it was too.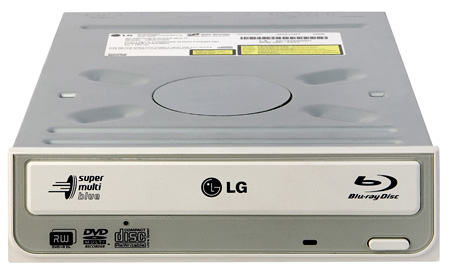 The CyberLink writing software uses a tidy interface that looks like four cubes stacked one on top of another. You drag and drop the files you wish to burn to one of the four cubes for data, audio, DVD/VCD or disc copy and then let the software get on with the job. Compared to Nero you get minimal control over the process - fine if granny is dropping a few photos onto a CD or DVD but when you've just spent the best part of £500, you'll probably want more control.
Verdict
Blu-ray DVD writing is going to be prohibitively expensive for some time to come but the LG GBW-H10N increases writing speeds by a useful amount and also brings the price down from 'ridiculous' to 'ruddy expensive'. ®
Sponsored: Ransomware has gone nuclear

LG GBW-H10N internal Blu-ray disc burner
LG's new Blu-ray writer ups the burn speed and lowers the price - just...