Head-to-Head Make no mistake about it, the AMD Athlon 64 X2 dual-core processor struggles to compete with Intel's Core 2 Duo, and the upcoming four-core Core 2 Quad will move the goalposts even further away. Which gives AMD a major problem until it starts to roll out Athlon 64 X4 mid-2007. Meanwhile, it can't rely on sales of mobile processors as that sector is owned by Centrino and it must surely be worried about Opteron's position as Intel spreads its Core technology into servers.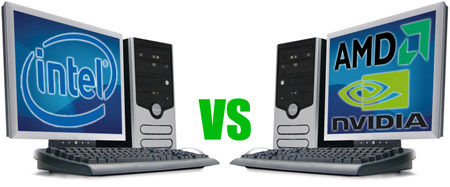 This grim situation has forced AMD to beat the drum about a sector where it feels it has the edge over Intel, based on market researcher Mercury Research's latest 2006 figures. The key points that it makes are:
Desktop integrated graphics are 60 per ceent of the desktop market and discrete graphics are 40 per cent.
Mobile integrated graphics are 76 per cent of the desktop market and discrete graphics are 24 per cent
That sounds about right to us
AMD has an open platform so you can choose either ATI or Nvidia graphics
Again, fair enough. If you want to buy a cheap Core 2 Duo-based PC you can bet it'll have integrated graphics from Intel, although it would be no surprise if Nvidia came up with some new silicon during the course of 2007. With an AMD Socket AM2 processor you get the choice of ATI or Nvidia graphics.
Windows Vista and 3D Graphics – platform quality is more important
In other words, Windows 95, 98, Me, 2000 and XP didn't put any emphasis on the power of your PC's integrated graphics engine. The games and applications you run may well require specific features and abilities but Windows itself was a pussy cat. Windows Vista changes all that as the new operating system itself demands a fair amount of graphics power if you want to run the swanky Aero Glass interface that you'll find in Windows Vista Premium and Ultimate Editions.
In Summary... AMD solutions... achieve... a visible difference for consumers in performance versus the competition [and] outstanding Windows Vista performance tomorrow on mainstream PCs available today.
Now this is interesting. AMD has produced a number of graphs that show that Intel's new G965 chipset and its GMA X3000 graphics core is - to put it bluntly - rubbish. It's reasonable to be condescending about the Q965 chipset with GMA 3000 core as it isn't much more than a refreshed GMA 950 with the addition of hardware transform and lighting (T&L), but the GMA X3000 is meant to be a completely different proposition.
Windows Vista Premium requires graphics that support DirectX 9 with Shader Model 2.0 hardware along with a Microsoft Windows Display Driver Model (WDDM) driver. Intel has developed GMA X3000 with that specific task in mind, so when AMD claims that there would be a "visible difference" between integrated Nvidia and ATI GPUs and the new Intel core, it's something worth investigating more closely. We decided to find out whether the argument held water.