The crew of the space shuttle Discovery have managed to unjam a solar panel on the International Space Station during a record-breaking fourth and final spacewalk of the mission. Mission Specialist Robert Curbeam became the first astronaut ever to complete four spacewalks during a single mission.
The outing was not part of the original schedule for the mission, but the solar panel became stuck as the astronauts were folding it so it could be moved to another part of the station.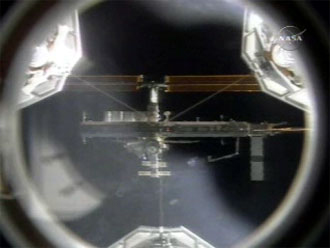 Curbeam and fellow mission specialist Christer Fuglesang spent almost seven hours wrestling with the array: pulling at guide wires, flipping grommets, and pushing panel hinges (according to NASA). The space agency says the astronauts also had to give the panel a good shake before it came loose and retracted properly.
The panel was part of the "temporary" power supply the station was fitted with six years ago. It has not been retracted since it was first deployed, which might explain why it didn't retract remotely, as it was designed to do.
The next mission to the ISS will see astronauts attempt to retract the opposite side of the array. NASA says part of the purpose of the spacewalk was to learn as much as possible to make that process easier.
The shuttle will undock from the ISS this evening, just after 5pm, eastern standard time. This means the crew should be home by 22 December and, with luck, debriefed in time for Christmas. ®