Japanese boffins hook giant squid
Kraken snared
---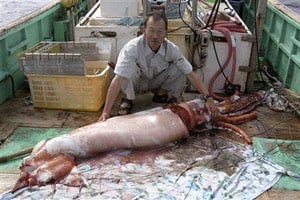 Scientists from Japan's National Science Museum are highly pleased with themselves after hooking a 3.5-metre, 50kg "giant squid" specimen, Reuters reports.
In 2005, the same team got the first snaps of the elusive Architeuthis, which can grow up to 18-20 metres.
The team snared the female "Kraken" on 4 December using a baited hook hooked "laid 650 metres under the sea off the Ogasawara islands". They'd previously "tracked giant squid by following their biggest predators - sperm whales - as they gathered to feed".
Team leader Tsunemi Kubodera (in photo, with his prize) today premiered a video of the catch at a news conference in Tokyo. He told reporters: "Nobody has ever seen a live giant squid except fishermen. We believe these are the first ever moving pictures of a giant squid." The press was also treated to a eyeful of the squid's "formalin-preserved carcass". ®