The Screwpole emails
It's hell in the world of project management
---
Episode 1 This is the first in a series of articles tracking the attempts of demonic senior consultant Screwpole to steep his naive young nephew Mugwort in the ways of IT project failure.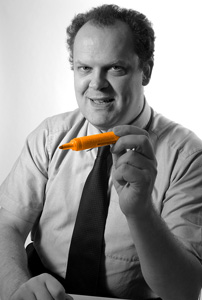 Failure equals unhappiness, a significant Project Objective in the lower circles, and Mr Screwpole has just been handed control of a new division in the sprawling offices of the "Netherworld: IT Project Disaster Initiative". Nepotism being rife in the Netherworld operation, he is using Mugwort as his inHuman Resources "asset".
The Infernal Hierarchy, in which Screwpole is a significant member, feeds off the cream of misery. If Screwpole can bring about the suffering of thousands of IT workers, he and his superiors will have a succulent feast of melancholy - and Screwpole will be handed a seat at a very select table.
Screwpole, a devious creature proud of plotting his way to the depths, has engineered for his nephew an inconspicuous, lowly position as Process Quality Evangelist at an up-and-coming IT firm with large government contracts. After failing to undermine one project – the latest database plug-in for an accounting system - Mugwort is now desperately trying to destroy the new, bigger and more complex project his project manager has been given, a large payment engine.
It should all be so easy. After all, aren't all large IT projects notoriously shambolic? And Mugwort's victim, the promoted project manager, has never worked on a task like this before...

To: Mugwort
From: Uncle Screwpole
Subject: Not all projects are the same
Re: Memo/Pr1258/2006/Title: How is it possible to
destroy a project from within? CONFIDENTIAL [Spam?]

Dear nephew,
Fool! You have failed! It seems that your project manager had far too much success in producing that mundane database adapter, and he's been promoted. Of course, this victory has resulted in the team becoming far too happy to make a decent meal. Your idiocy means there's now a disembodied mouth the size of a bus breathing down my neck [How I despise the literal nature of the "incentives" they use down here]. Unless you perform, I, and therefore you, will be for it. I've heard mention that unless you bring results you will be reassigned to the Nonsensical Filing System department. And I'll be seconded to Unsolicited Viagra E-mails.
But take heart - before I take yours! You can claw back project failure and some sort of future for yourself. Now that your manager has to deal with a different kind of project, he'll doubtless try - with your help - to manage this new IT project in the same way as his earlier one. Thus his contentment, and that of the team, will be replaced with delicious misery.
Tools and techniques that work well on one project may well lead to disaster on another. Your victim must be shielded from the truth that not all projects are the same. You should have little problem in doing this. Several of our departments down here offer "one tool-set fits all" project management guides [memo to self: must renegotiate our introduction fee on sales - "product evangelists" have such juicy souls].
I'll remind you, my nephew, that you don't get to make mistakes. Your prey can do without proper Project Management training - remember to point out to his boss that if he gets any, he'll just leave for a better paid job than the boss could ever dream of - but you can't. You must recognise all the different types of projects, and make sure you sabotage them appropriately. You can categorise them by the clarity of the vision [ugh, how I hate that word – in Hades, we peer through the murk into a slough of mediocrity and like it] and the experience the team has managed to scrape together in its domain.
Your PM's last project was to deliver the 25th database plug-in for an accounting system – a clear vision of something that the team has built many times before [oh, why do these puny mortals create such hells of their own making? It risks putting us out of a job and devising new torments that actually seem worse than their mundane working lives is so taxing...] .
His new project is to produce a graphical interface for a transactional payment system, or some such - the remit is mainly just to it better, faster, cheaper. Luckily, any metrics relating to what this actually means seem to have been overlooked, so that'll help us later on.
But don't you see? Your victim's first project management role was akin to supervising the building of a house using a team of contractors, and he skilfully applied what he learnt from that set of project management CBT CDs he found in that cupboard. In that project, his artful use of Gantt charts, and critical path analysis was the crushing blow to our - err... your - moronically laid plans for early project disaster.
But there's hope! In his new project, he has a team of bright workers with lots of experience in the field, some of whom actually have unique and useful, skills. However, he doesn't have a clearly defined set of requirements, and the customers are unsure of what they really want. This is our moment, my lad, to bring the team sobbing to its knees [and if you aren't cackling maniacally, perhaps you also need a refresher course in menacing laughter...]
Now, if he uses the same skills that got him through his last project, and you'd better see that he does, he'll spend his time playing with his project management software. Support his futile efforts to work out the dependencies between tasks, to work out how to parallelise activities, and let him busy himself with interfaces. Persuade him to see dependencies where there are none. In IT, there are often few real dependencies and experienced staff easily deal with those that exist as they arise.
With your guidance, he'll fail to focus his attention on rooting out the true customer requirements, and he'll fail to find and remove any reliance on critical resources while sheltering his staff from distractions. He'll be too busy drawing pretty pictures and fussing with Gantt charts - and those wonderful developers working for him will get confused and angry. [memo to self – Perhaps a small team of attractive she-devils should be sent to that wine bar across the road? Sympathy for victims of crap management can be... oh... so productive....]
With luck, he'll have a beautiful project diagram that you can hang on his tombstone.
The amateurish suggestions in your last email tell me, dear boy, that you're still in need of some more coaching in the basic types of projects you are likely to encounter. Knowledge is influence and it will be you, not your manager, controlling this development. Remember that!
Unfortunately, I'm running short of time, my lad. The giant floating mouth is drooling down my collar and I've just received a summons from Further Down Below. I'll continue my lecture when I can, and I'll show you the four different types of projects and how to make each fail. Meanwhile, Mugwort, I await a reply outlining your undoubted initial successes, enlivened by an account of your victim's consequent failures...
Phil Rice is CTO of software vendor Erudine
With acknowledgement to CS Lewis' "Screwtape Letters".