Those of you suffering from pre-Xmas "bah humbug" syndrome, typified by symptoms ranging from mild irritation at the Yule orgy of capitalism, to the overwhelming desire to bring down Santa's sleigh with a surface-to-air missile, will certainly enjoy the festive offering from Will It Blend? - a website dedicated to testing everyday objects to destruction in a household blender.
Indeed, anyone who's ever wondered what happens when you stick a couple of Barbie Dancing Princesses in a blender can find out right here. It's not a pretty sight: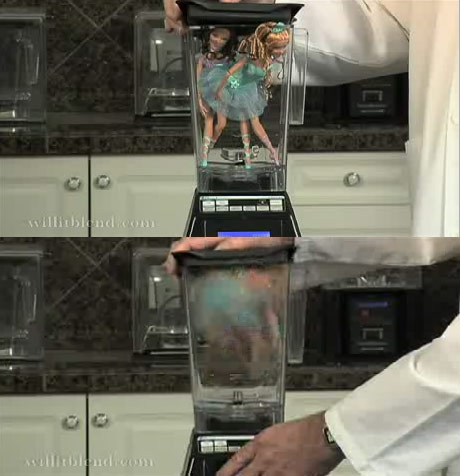 Marvellous. This Barbie carnage features in a series of videos called Don't Try This @ Home. Other objects subjected to the blender treatment include golf balls, a crowbar and, rather agreeably, an iPod.
Full marks we reckon to Blendtec, which has found this entertaining way of punting its products. Here's a challenge for the company: A boxed copy of MS's Vista - Will It Blend? ®