This article is more than 1 year old
Google overtakes Technorati
It's a bloggy shame
Ailing weblog search engine Techorati has been overtaken by Google, according to research company HitWise Inc.
According to HitWise, Google's Blogsearch has seen a 168 per cent surge in traffic since Google started to promote the service more heavily in October. The research outfit attributes the success to cross promotion from Google's own News service.
From its launch in 2003, Technorati has struggled to scale with the growth in vanity publishing. Many weblogs are created by robots - and only ever read by robots: creating a vast, ghostly parallel universe of junk web pages. And so the site has always been vulnerable to a well-organized competitor.
As an unscientific test to gauge Technorati's problems we ran a quick comparison with Google Blogsearch. The Google engine loaded in four seconds, while Techorati was still loading after thirty seconds. A Technorati search took twice as long as Google.
While the results speak for themselves. Here's Google -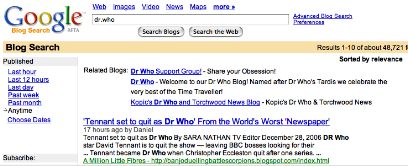 ... and here's Technorati -

If this was a boxing match, the referee would have stopped the fight by now. ®