Katie Price and Peter Andre: the greatest album ever?
'Songs so emotional, I go weak at the sphincter'
It's official: the debut album by highly-talented popsters Katie Price and Peter Andre has been classified by Amazon reviewers as possibly the greatest album ever - a terrible shock to those of us ready to dismiss their musical talents and consign A Whole New World to the dustbin of musical history.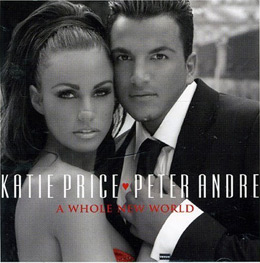 One breathless correspondent classifies the masterwork as "simply genius", while another is moved to admit that the songs are "so emotional, they make me go weak at the sphincter".
The following is typical of the orgy of adulation currently romping uncontrolled in the album's review section:
There is one incredible moment on this album and that is the nanosecond of silence just before the first track commences. In that moment the whole universe shivers for a second. the title is literal - even eponymous. This album is not just genre defining, it represents the ending of an epoch and the opening of a whole new world.

I can only agree with other reviewers about the overwhelming emotional response I had when I knew this album had been made (well...brought to life, really, since it was something that was predestined to "BE" - like a dormant succubus aroused by cavorting nude witches). I literally retched i was so overcome. I was lightheaded with exaltation. In fact I was so delirious I crossed the road with this on my ipod and was run over by a car. Amazingly I did not feel a thing.

I have only one complaint about this meisterwerk. The Price. It's far too low. Were there to be but one copy remaining in the world, and had my own copy been mysteriously burned in a catastrophic fire in which I had been unable to risk my life rescuing it, I would gladly sell my children into slavery to buy that last remaining disc.

Thank you Peter. Thank you Katie. I am looking at the world right now and as of now it really is completely new to me. I understand none of it. I am like a new born babe. My mind is a tabula rasa and you have written new instructions upon that page. I will now carry out your instructions to the letter...
Excellent. If you'll excuse us, we're just off to HMV...®