This article is more than 1 year old
Novatel Merlin XU870 ExpressCard 34 'super 3G' datacard
High-speed net access for the hottest laptops
First UK Review ExpressCard 34 add-ins are few and far between, leading a fair few notebook users to question the wisdom of laptop makers who've dropped the PC Card interconnect for the new, faster version. The mobile phone network Vodafone recently shipped a USB-connected HSDPA modem for PC Card-less. Perhaps it should have waited for Novatel's Merlin XU870, an ExpressCard 34 data card that does 'super 3G' up to 3.6Mbps...
The downside of having a slimmer add-in card is that there's less room for the internals. So the XU870 has one of the chunkiest-seeming antenna pods I've seen on a data card. First looks are deceptive, alongside Vodafone's PC Card 3G Broadband data card, it doesn't seem as large as it did when it was first taken out of the box. But it still pokes a fair way out of the side of your notebook.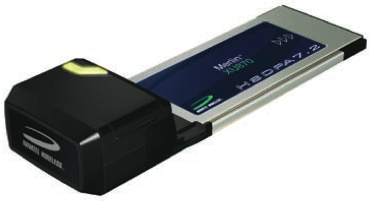 One advantage of ExpressCard is ease of removal. Just as the XU870 fixes into place with a click, so it's released with just a push against its spring-loaded locking mechanism, all without PC Card's little release button. This makes it much easier to take in and out than PC Card devices were.
Out of the box, the XU870 ships with Windows software, but Novatel's website has Mac OS X software ready for downloading, along with full installation and usage instructions. Well, sort of. While the Mac package contains the driver needed to get operating system talking to hardware, it doesn't include the MobiLink application that Windows users can run to not only connect to the network but do useful things like send and answer SMS messages.
Credit where it's due, though. Novatel does at least cater for Mac users, something so many other card makers fail to do. It also provides drivers and full instructions for getting the XU870 running on a Linux-based machine.