Growing rumpus over Saddam execution footage
Iraq investigates mobile phone video
---
The Iraqi authorities have launched an enquiry into "unofficial mobile phone footage" of Saddam Hussein's execution last Saturday after the graphic video surfaced on the internet within hours of his hanging, the BBC reports.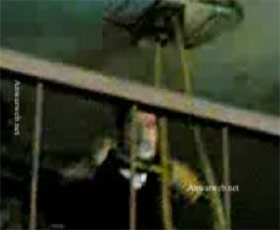 The grainy two-and-a-half minute film shows Hussein being taunted by witnesses, with one unknown onlooker shouting "go to hell" while others chant the name of "Shia cleric Moqtada Sadr and of Muhammad Sadiq Sadr, his father who was murdered by Saddam Hussein's agents".
In reply, Hussein enquires of his tormentors: "Do you consider this bravery?"
An advisor to Iraqi prime minister Nouri Maliki, Sami al-Askari, told Reuters: "There were a few guards who shouted slogans that were inappropriate and that's now the subject of a government investigation."
UK deputy prime minister John Prescott, temporarily at the helm while Tony Blair is on holiday, told the BBC today: "I think the manner was quite deplorable really. I don't think one can endorse in any way that, whatever your views about capital punishment.
"Frankly, to get the kind of recorded messages coming out is totally unacceptable, and I think whoever was involved and responsible for it should be ashamed of themselves." ®