Saddam's YouTube smash
User generated content at the gallows
---
Opinion WARNING: GRAPHIC CONTENT
"User Generated Content" finally scored a smash hit in 2006, although we had to wait until the year's end to see it.
But thanks to a minute of grainy, camera phone footage, the truly shambolic nature of the execution of former Iraqi dictator Saddam Hussein was disclosed for all to see. The footage that the networks wouldn't show is the weekend's hit on YouTube.
From creation to distribution, this is a landmark event for people-powered media. So why aren't the usual technology evangelists - who see every natural disaster is an opportunity - trumpeting it this time?
These ambulance chasers rarely miss the chance to trumpet the power of networked technology: the Madrid and London terror bombings, and the Asian Tsunami, were all touted as heralding a new media epoch - with buzzwords such as "gatekeepers" and "democratization" thrown around with abandon.
New media pundits belong to a cult of disclosure - the more information we have available to us, the wiser we will all be. If we could only publish everything, and make it instantly accessible to everyone, we'll have reached a higher state of consciousness. For example, this belief is beautifully illustrated by the claim that "Widely Available, Constantly Renewing, High Resolution Images of the Earth Will End Conflict and Ecological Devastation As We Know It" - that one (if you hadn't already guessed) comes from a Google marketing guy.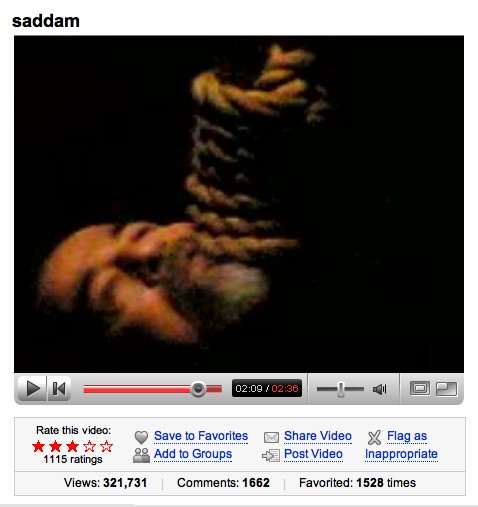 YouTube star Saddam
In which case, you'd think the Saddam's YouTube sensation would fit the bill perfectly. The footage records a preternaturally calm dictator facing a braying mob of hooded executioners - proof enough that in Iraqi, a police or army uniform is daywear for sectarian militias. Nothing quite brings home the chaos of law and order like this grisly spectacle. So hasn't YouTube done the world a favour?
Perhaps the guarded reaction should to be welcomed with some relief. The haunting footage is less grisly than much of YouTube, which already hosts a spectrum of personal violence ranging from school beatings to roadside bombs. What may, we hope, be giving the technology evangelists cause for circumspection is that sometimes this kind of full disclosure doesn't really help us at all.
Whether you think the dictator should have been hung, or merely left to rot in misery, you probably didn't want to see him outclassing his executioners. Thanks to a cameraphone and YouTube, we heard his brilliant one-line riposte to a taunt, and thanks to YouTube we saw his final prayer interrupted. And thanks to YouTube, we're part of the spectacle, as Stephen Moss writes today:
"Saddam's killers have achieved the impossible: they have made us feel sympathy for him, for his grace under pressure. There may not have been dignity in the dying, but there was courage. A five-star death.
For someone who terrorized civic society for thirty years and launched a war that cost a million lives, it doesn't quite seem fair.
Thanks, Web 2.0 - but there is such a thing as "too much information". ®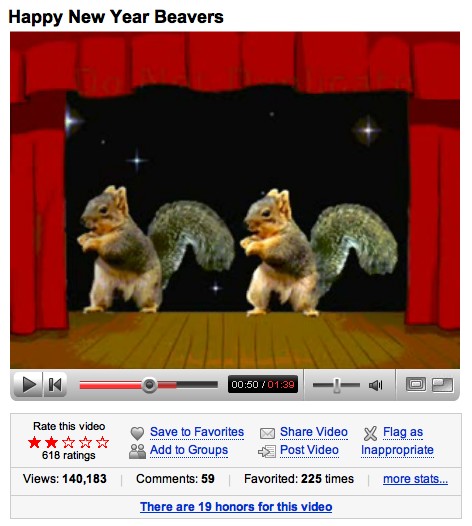 Normal service has been resumed