Details of smart-phone maker HTC's 2007 roadmap published on the web point to a year of improvements to the company's current line-up rather than a new range of radically redesigned products.
Running through the list published by Russian-language website HPC.ru, HTC's QWERTY keyboard slider phone 'Herald' - officially the P4350 - look set to be followed up with a 3G version, dubbed 'Kaiser'. The more candybar-like version of Herald, codenamed 'Vox', has already been revealed, but we can now add a 3G version to the line-up, called 'Wings'.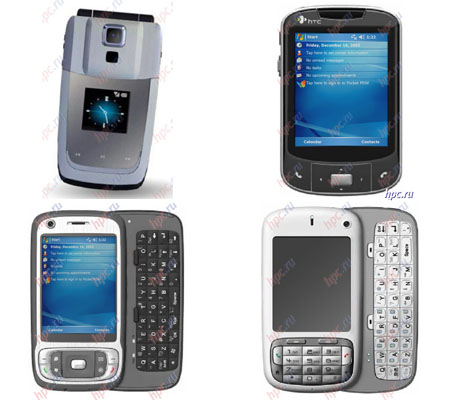 Clockwise from top: the mystery clamshell, Elf, Wings and Kaiser
HTC kit has traditionally been among the more expensive Windows Mobile 5.0 devices out there. But the company appears to be taking a leaf out of Palm's book. The PDA pioneer is already touting its low-price Treo 680 smart phone, and next year HTC will do the same, pitching 'Elf' as a budget tablet form-factor PDA phone. It's said to be particularly thin and to feature touch-sensitive keys.
HTC's BlackBerry-like handset, the S620 - aka 'Excalibur' - will be followed this year by 'Cavalier', which features a faster processor - 400MHz, up from 201MHz - and 3G HSDPA connectivity. Adding weight to past rumours, the report also mentions 'Love', the GPS-less version of 'Artemis', the P3300 PDA phone HTC announced last autumn.
The most intriguing handset on the roadmap is also the one for which fewest details are available. It's clearly a clamshell, suggesting it's a follow-up to last year's STR TRK. The presence of music keys on the piccy point to a focus on entertainment. It's name is unknown. ®