Brazilian court orders YouTube shutdown
Model obtains injunction over beach sex romp vid
---
A Brazilian court has ordered the closure of YouTube following the site's failure to completely remove a video showing Ronaldo's ex-missus and her new boyf indulging in a bit of beach rumpy-pumpy, Reuters reports.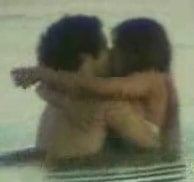 Model Daniela Cicarelli sued YouTube after the offending film proved a smash hit among Brazilian YouTubers. She and squeeze Tato Malzoni last year "filed to force YouTube to take the video down and demanded $116,000 in damages for each day the video remains up". Although YouTube did indeed remove some copies, other users reposted it and the whole sorry exposure dragged on for months.
Finally, Cicarelli and Malzoni filed another suit in December "requesting that YouTube be shut down as long as the video is available to users". A Brazilian court agreed and a judicial clerk today said that it had "ordered the popular video sharing service ... to be shut down until it removes a celebrity sex video from its site".
This is likely to prove difficult to enforce, Reuters notes, since YouTube is based the US. No-one from owner Google was available to speak to the agency today.
In the interests of investigative journalism, and to save readers the bother of going and tracking it down themselves, we selflessly viewed the footage several times and can confirm it involves some hot ice cream-sucking action followed by what appears to be a semi-subaquatic Cicarelli riding Malzoni's visibly-armed torpedo. Accordingly, we can confirm it's NSFW, should you fancy doing a bit of investigative journalism yourselves. ®