It's a well-known fact that to successfully blend into an alien environment you have to adopt local customs. In the case of Newcastle, for example, this might involve downing 20 Bacardi Breezers in a nightclub and then fighting the police at 3am. When it comes to Paris, however, you just need to be bloody rude.
Of course, Parisians have spent centuries perfecting their rudeness, so it's not something the average Brit can pick up without some training. Cue C'est So Paris, an initiative from the Ile-de-France regional committee of tourism offering rookies some essential pointers in Gallic petulance: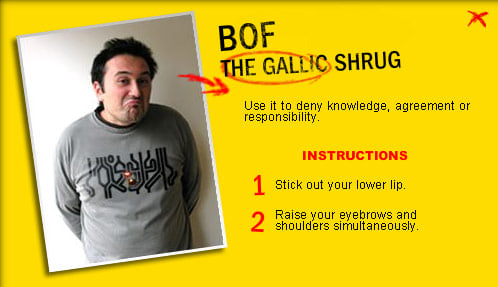 Mais oui. Under the heading "Cop the Parisian Attitude", the website illustrates just how it's done over the water. Other non-verbal classics include the "Camembert" ("A rude way to tell someone to shut their mouth. Not to be used in polite company"), "La Moue" (the timeless French pout used "to convey just about any negative emotion") and the "Ras le Boul", designed to show that you're "sick and tired and have had it up to here with something (or someone)".
Yup, that just about covers it. The site is linked to an ad campaign aimed at showing Brits that Paris "isn't a stuffy museum city, but that it is a vibrant destination brimming with exiting events that are worth visiting regularly".
Which is true, as the 2005 riots prove. Just add a quick Gallic Shrug to your arsenal of rude gestures, down 20 Bacardi Breezers and get stuck into some hot Paris suburb action. Magnifique. ®