Macworld Ending months of rampant speculation and anticipation, Apple CEO Steve Jobs unveiled plans for the iPhone, a svelte and sexy device that melds the features of an iPod, a smart phone and an internet communicator.
Tuesday's announcement at the annual Macworld conference in San Francisco ends months of rumors and prognostication about Apple's quest to expand its lineup with the introduction of a full-featured phone. While plenty of pundits have pooh-poohed Apple's prospects of catching up to Nokia, Motorola and other device makers, Jobs said his goal was to capture one per cent of the market by 2008.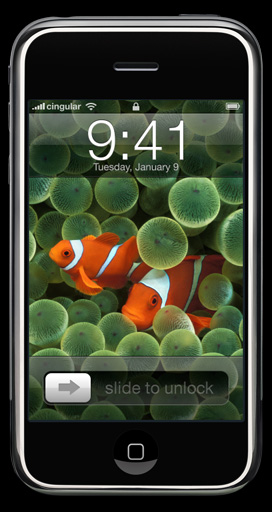 (Jobs cited figures that showed 957 million cell phones were sold last year. He didn't list sales of smart phones, which is a small fraction of that number.)
The iPhone ships in the US in June and in Europe in the fourth quarter. Asia will have to wait until next year. A 4GB iPhone will cost $499 with a two year contract and the 8GB will be $599. Cingular has entered in to a "multi-year" exclusive partnership in the US. Jobs didn't identify what carriers it planned to work with overseas.
He also announced the availability next month of Apple TV, a living room device for stereos and wide-screen televisions that Apple first teased in September. It will connect to computers throughout the home to make it easier to consume pictures, music and video.
The unveilings came as the company formally changed its name from Apple Computer Inc. to Apple Inc. to signal its expansion from computers into consumer electronics.
(True to Macworld's roots as an annual pilgrimage for geeks and the reporters who love them, attendees at this year's event lined up before it began like so many teenyboppers at a Justin Timberlake concert. The scene once the doors opened resembled the running of the bulls.)
Revolutionary
During a two-hour keynote filled with thousands of ogling fans, Jobs made liberal use of the world "revolutionary" in describing the iPhone. Based on the demo, he probably wasn't exaggerating.
The device offers a wider, 3.5-inch screen with touch controls that vastly improve upon the iPod's scroll wheel. To scroll through a list of artists, contacts or photos a user runs a finger down the screen. A faster flick will move further down the list than a slow one. The iPhone features an improved menu structure that makes it faster to find playlists, artists and albums.
The screen is also improved, allowing the viewing of video and pictures in either portrait or landscape mode. Switching from one to the other requires a flip of the fingers.
The phone uses a version of Apple's own operating system, Mac OS X, and offers random-access voicemail, enabling users to listen to messages in the order they want, rather than in the order they were left. It offers SMS messaging and a 2 megapixel camera.
Jobs, who has been under scrutiny for backdated stock options issued to employees and executives, showed how easy it was to access voice mail. One message left on his phone came from former Vice President Al Gore, who was part of an internal task force that recently absolved Jobs of any wrongdoing in the scandal. (Gore's documentary An Inconvenient Truth got a plug later when Jobs used the iPhone to browse movie titles.)
It also allows seamless access to IMAP and POP3 email, and Yahoo will offer the free pushing of IMAP messages. Web browsing benefits from the availability of Safari, the ability to zoom in and out with a tap of the finger and the iPhone's wide-screen capacity.
Jobs demonstrated a feature that integrates Google Maps into the device, allowing him to locate a Starbucks a few blocks away and order 4,000 cups of coffee to go by phone simply by tapping the number listed on the browser. (He canceled the order before hanging up.)
The iPhone comes with plenty of other goodies, including sensors that control screen brightness, adjust the picture when the device has been rotated from portrait to landscape, and measure how close the user is to the phone.
It supports quad-band GSM, EDGE, Bluetooth and 802.11b/g/n - in other words no 3G yet and no UMTS, making it a "quaintly old-fashioned phone", as Reg columnist Guy Kewney writes on his website: "Certainly, this will lose potential sales. Almost certainly, Apple doesn't care. Putting 3G onto the Mk I device would cut the already-ordinary battery life, while making the electronics more complex."
Jobs didn't say if Apple had to pay for the rights to the iPhone name. Recent disclosures showed that Cisco Systems held the rights to the brand. ®