CES 2007 Toshiba demonstrated what it claimed the first notebook capable of burning HD DVDs, a Qosmio laptop with an integrated HD DVD-R drive, at the Consumer Electronics Show (CES) this week. The prototype set-up can record onto 30GB HD DVD media, the company said.
Toshiba wouldn't say when it's going to ship the machine commercially, or how much the product will cost when it does. It was tight-lipped about the laptop's broader specifications and model number too. That said, the company demo'd the drive in a chunky Qosmio G35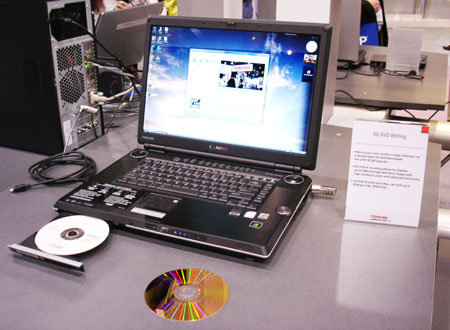 In fact, all Toshiba would say is that it will say more later on in the current quarter.
The 30GB recordable disc Toshiba has in mind for the machine isn't a dual-layer disc but a twin-sided job with 15GB storage capacity per side.
Last week, Toshiba announced an internal half-height SATA HD DVD-R drive. It's due to ship in volume in February. ®
Read our complete CES 2007 coverage at Reg Hardware