The famous "Pillars of Creation", the subject of the best known of Hubble's images, have already been blown apart by a supernova. We won't see their destruction here on Earth for another thousand years, but the astronomers making the claim estimate that the massive, star-forming pillars that make up the Eagle Nebula were obliterated almost 6000 years ago.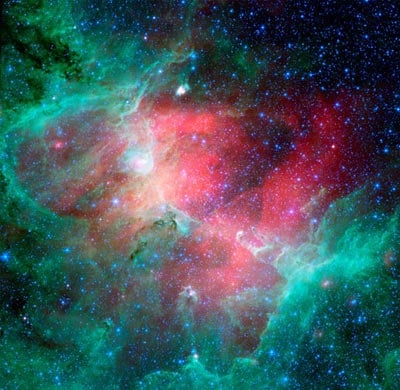 In the image, captured by NASA's Spitzer Space Telescope, the green areas are the relatively cool dust that makes up most of the nebula. However, the red portion shows an area of much hotter gas.
Astronomers suggest that the gas has been heated by a nearby supernova explosion, some 8,000 or 9,000 years ago, and around two thousand light years from the famous Pillars. The explosion might have been seen from Earth between one and two thousand years ago.
From our perspective the edge of the shockwave has still to reach the pillars, but NASA says that when it hit, the wave would have crumbled the towers, exposing the newly born stars within them. The catastrophe most likely triggered the birth of new stars, as well.
The area of heated dust was identified first in images from the European Space Agency's Infrared Space Observatory. NASA says Spitzer's longer wavelength observatory has been able to match the heating to a supernova event.
Naturally not all stargazers concur: New Scientist.com reports that at the 209th meeting of the American Astronomical Society, some delegates proposed other reasons for the heating.
Stephen Reynolds of North Carolina State University told the news site he thought it unlikely that a supernova event in the region would have gone unnoticed until now. He argues that super-heated stellar winds would be sufficient to explain the observations. ®