This article is more than 1 year old
Devolo dLAN 200 AVdesk HomePlug AV network adaptor
HD-ready wired networking over your home's powerlines
Review Driving data over mains power cables is nothing new, but products based on the latest, fastest incarnation of the HomePlug Ethernet-over-powerline standard have only recently started to appear, over a year after the specification was finalised, in August 2005. The new version of the standard delivers a claimed bandwidth of 200Mbps and is called HomePlug AV. The 'AV' is the clue to what it's for - this is the version of powerline networking designed for the HD era...
Here's the pitch: a 1080 HD stream fills about 20 megabits (Mb) of network capacity every second, HomePlug AV has the bandwidth to deliver multiple HD streams around the home today, while a wireless equivalent isn't due to be formally standardised until late next year.
That said, there are 802.11n-derived wireless products on the market, even if they're based on early drafts of the specification and not its final implementation. And they're not yet guaranteed to be interoperable with similar kit from other vendors.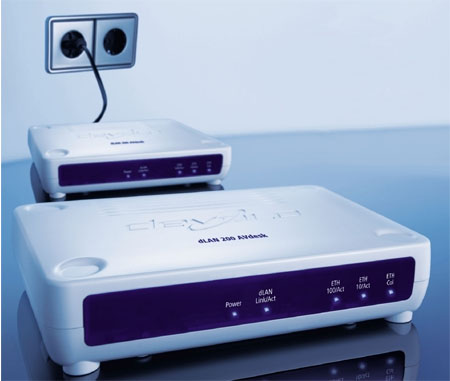 HomePlug AV kit is here, however. Devolo began shipping its dLAN 200 AVdesk adaptor in November 2006, and the product arrived in the Reg Hardware office on the same day as UK supplier Solwise's own 200Mbps powerline Ethernet adaptor. Both are based on powerline networking chip maker Intellon's recently released INT6000 chipset. That should be enough to ensure compatibility with each other, though not with non-HomePlug devices such as Netgear's HDX101 unit, which is based on different technology but one that also claims to deliver a 200Mbps raw - aka PHY - throughput.
Netgear's product has been out for some time, getting to market earlier than HomePlug AV-based offerings by using an incompatible chipset from DS2 which uses technology originally designed to deliver broadband over mains transmission lines. I'll be looking at the HDX101 and Solwise's HomePlug AV product in the very near future, but it's worth stressing the compatibility aspect up front.
Netgear's HDX101 is incompatible with the HomePlug AV-based kit, which in turn are incompatible with the older HomePlug 1.0 14Mbps and 85Mbps - aka HomePlug Turbo and HomePlug 1.0 Plus - specifications. They are, however, all capable of co-existing on the same cabling, so if you're connected your Xbox to the internet using a pair of 85Mbps units, you can still plug in a pair of 200Mbps to link, say, a set-top box and a remote media player.
But back to the Devolo box. The dLAN 200 AVdesk looks not unlike an old-style external analogue modem. There are a series of LED status lights behind a wide blue panel on the front, and the 100Mbps Ethernet and power ports on the back. The base has four notches to allow you to wall-mount the unit in either portrait or landscape orientation - a nice touch. So too are the dips on the AVdesk's upper surface placed to take a second unit's feet should you need to stack these things.
Incidentally, a plug form-factor unit, like Devolo's MicroLink dLAN Highspeed I reviewed early last year, should be shipping by the time you read this.