A total of 38 months jail time was handed down on Wednesday to employees and clients of a London private detective agency which illegally hacked into telephone lines.
Eight people connected with the agency, which cannot be named for legal reasons, variously admitted charges of conspiring to intercept communications unlawfully, making unauthorised modifications to a computer, false accounting, and criminal damage to BT property.
Prosecutor Miranda Moore told Southwark Crown Court that authorities were first made aware of the agency when it was discovered that a serving police officer, who was on sick leave citing depression, was effectively working as a full-time private investigator, The BBC reports.
In 2003 BT alerted police it had identified intercepts of its network after customers complained of unexpectedly high bills throughout the UK. Moore said: "BT took the view if it was not the work of one person then one team was responsible." Green roadside junction boxes had been broken into and hundreds of private lines were compromised.
The agency also hacked computer systems to order to access private banking and medical information.
Detective Superintendent Nick Stevens of the Met's Anti Corruption Command, said: "This was a lengthy, complex and ultimately highly successful investigation by the Met's Anti Corruption Command working in partnership with BT and international law enforcement agencies."
"This case has highlighted the concerns law enforcement agencies have long held about the illegal activity undertaken by some members of the private investigation community."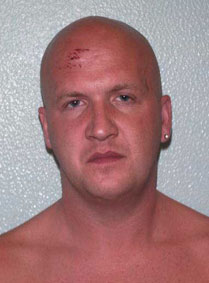 Michael Hall, 37, of Battersea (right), and Stuart Dowling, 31, of Sittingbourne in Kent, who built some of the telephone hacking equipment, were handed 12 and nine months imprisonment respectively.
The customer roster at the agency included Sunday Times Rich List alumnus Adrian Kirby, 48, of Haslemere in Sussex, who made his multi-million pound fortune in the waste disposal business.
He was jailed for six months by Judge Paul Dodson, who said: "There's been a suggestion in interviews with police...that the activities you were involved in was normal business practice and therefore you should be punished in a way that acknowledges that."
"Such conduct is an attack on the privacy of individuals and commerce. It is not normal business practice. It is a criminal intrusion upon the right to privacy, privacy guarded throughout our society."
Kirby was also ordered to pay £2,173 compensation to BT and prosecution costs of £6,500.
Anthony Waters, 67, of Mougins, France, paid the hackers to break into his wife's laptop during an acrimonious divorce. He was sentenced to four months imprisonment. His son Duncan Waters, 39, was given a three month suspended sentence and Steven Farrington, 61, of Redhill in Surrey, a former director of Anthony Waters' bathroom company, was given a community punishment order.
Two further clients were given three months and four months imprisonment a piece for employing the agency's illegal services. ®