Burger King rampage teen posts footage on YouTube
Amateur sleuths finger wee ned tube
---
Police investigating an incident last December in which 15 to 20 youths trashed a Edinburgh Burger King were given an unexpected helping hand when readers of a local paper tracked down footage of the outrage on YouTube.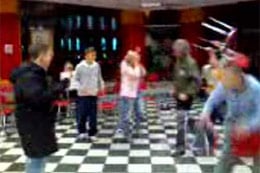 According to the Evening News, one of the gang used his mobile phone to film his pals "hurling chairs and exchanging punches as terrified staff cowered behind the counter". The miscreants fled before police could intervene, but the cameraman later rather brilliantly posted a one minute, 30 second clip of the carnage on YouTube.
It didn't take Evening News readers long to find the video (see comments on the original story here), posted under the title "Burger King Banter" by user "kennygnewey". The guerilla filmmaker also rather obligingly gave his surname, which led the amateur sleuths to his Bebo homepage (now removed), where Kenny Newey declared: "There's not much to say about me. I do come from Edinburgh, I support Hibs FC. I like going drinking, clubbing and lassies too, and I do play rugby and am a proud member of the Tartan Army."
Three arrests quickly followed, prompting a police source to note: "Footage shown on these websites is really useful. The evidence tells us more about what happened and allows us to identify those responsible."
As a rather delightful footnote, "tube" is a local derogatory term, the origin and meaning of which we're sure you can guess. As one Evening News reader notes: "Interesting that the video was posted on 'youtube'...how appropriate for these wee neds." Another adds: "You tube indeed." ®