This article is more than 1 year old
Netgear HDX101 200Mbps powerline Ethernet adaptor
HD-ready wired networking via your home's power ports
Review It's a neat trick being able to transmit data around your home or office via the mains power wiring. You get a more stable, less interference-prone connection than Wi-Fi and a potentially faster link too. The downside is that there's no roaming, at least not beyond the reach of an RJ-45 cable and however many powerline adaptors you've got dotted around your house.
Just as Wi-Fi is due to get a major speed bump, with 802.11n, so too is powerline Ethernet. The difference: the 200Mbps powerline is here now, while the 380Mbps 802.11n isn't going to be ratified until later this year, though we're likely to start seeing a raft of standard... almost products come in the next few months.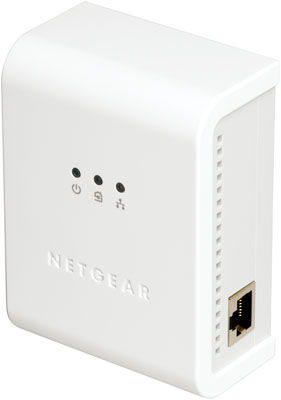 Scenting an opportunity, makers of powerline network products are beginning to push the faster technology, particularly now that consumers are starting to ponder streaming HD video around their homes. With that in mind, Netgear last year began packaging its already-available HDX101 200Mbps adaptor as a pair of units in a 'starter kit'.
Netgear was able to get to market well ahead of its rivals by adopting a different technology. The best known powerline system, the de facto standard, is HomePlug, touted by the HomePlug Alliance. Almost everyone supports HomePlug's 14Mbps and 85Mbps standards. Unfortunately, delays to the ratification process meant the 200Mbps HomePlug AV specification wasn't approved until the summer of 2006.
In the meantime, chip maker DS2 had already started offering 200Mbps powerline chipsets by adapting an existing European standard called Opera, developed for broadband connections between homes and electricity sub-stations. Alone among powerline Ethernet adaptor vendors, Netgear chose to use the DS2 system rather than wait for HomePlug AV to be finished.
If you already have 14Mbps or 85Mbps HomePlug-based powerline adaptors in place, any HDX101s you add will happily co-exist with them, Netgear claims. But don't expect them to communicate with each other. Opera is incompatible with HomePlug 1.0 (14Mbps) and HomePlug 1.0 Turbo Mode (85Mbps). Nor is it compatible with HomePlug AV. Which, in case you were wondering, isn't compatible with the slower HomePlug specifications either but, again, will co-exist with them.
So don't expect a Netgear HDX101 to talk to a Devolo DLAN 200 AVdesk like the one I reviewed last week or the Solwise HomePlug AV 200Mbps I'll be looking at in due course.