This article is more than 1 year old
Google Germany goes kaput
Ich hatte meinen domain namen vergessen
Updated Google apologised on Tuesday after its German site disappeared overnight and was replaced by a page from domain holding company Goneo.
The search engine was resurrected at about 7.30am German time, though users still report some problems. The message on the Goneo page translates as: "There are is no content at this domain. Please try again later."
A Google spokesman told The Register: "For a short period of time after midnight on January 23rd, the Google Germany homepage (the page hosted at google.de) was unavailable for some users. We would like to apologize to our German users who have had issues accessing google.de.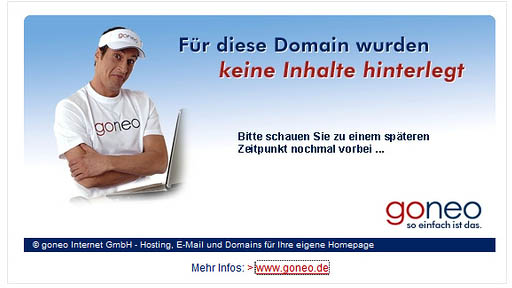 Auf wiedersehen net
"We have since corrected the problem and, while due to internet caching some problems may persist, we anticipate that all users will experience normal functionality of google.de soon, the latest by January 24th."
The firm refused to offer any further explaination for the vanishing act. It appears, however, that someone forgot to renew the domain registration, causing the site drop off the web.
The same fate famously befell Microsoft's hotmail.com in 2003 and washingtonpost.com in 2004.
At time of writing Goneo's spokesman was unavailable for comment. ®
Update
Goneo called us with the full story from its end. The google.de domain changed hand three times last night, a spokesman said.
A request to take over the domain was placed with Goneo about a week ago. The firm automatically placed a request with German domain registry DENIC (the equivalent of Nominet), which put the request to Google's German provider. The provider did not respond in the first instance, and ignored a second approach from DENIC.
According to procedure, DENIC then approved the request on Monday evening. Goneo became aware of the registration, and arranged with Google and DENIC to have it transferred back.
Unfortunately, somebody else had made an application to register it too, through another domain company, which had also been ignored, so it was transferred to them first.
Google finally took possession its German digs this morning.
Update 2
Looks like we've nailed the culprit. We received this frank confession via email:
Hello Chris,

I am the person in question registering the domain with Goneo, although it did happen inadvertently. I showed my girlfriend how one of my domains had been taken over by somebody else with the Goneo ordering system - but before entering my contact details, I went back in the ordering process and registered a different domain. Somehow, the Goneo system must have received both domains to register...

Greetings,

- The accidental few-hours owner of google.de