This article is more than 1 year old
Defacement archive Zone-h gets defaced
Saudi hackers claim scalp
NSFW Defacement archive Zone-h.org has become the victim of a domain hijack attack.
Initially we thought the site had been defaced, however Zone-h co-founder Roberto Preatoni has been in touch to explain that its DNS settings were illicitly changed to point at a site carrying a "screw you" message, posted by a gang of defacers from Saudi Arabia.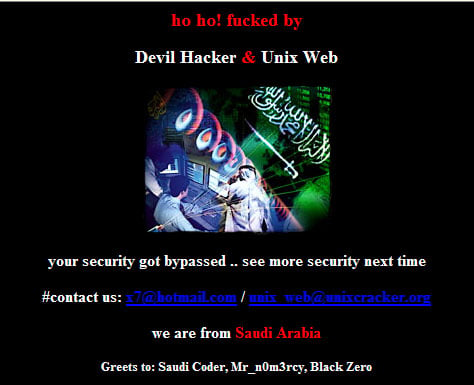 "The website wasn't technically hacked, the attacker gained instead access to the registrant authority admin panel through which zone-h was registered and from there they changed the DNS settings, redirecting the domain name to a different IP. This IP connected a webserver mounting the defacement page," Preatoni explained.
The DNS settings of the site have been set back to their original values which will allow surfers to visit zone-h.org as normal after the correct values propagate across the internet, a process that can sometimes take a few hours. Undoing the unauthorised changes took 48 hours, a length of time Preatoni blames on the time it took its registering authority to analyse the problem.
Zone-h has been active in chronically politically motivated hacks by Islamic hackers, and others, in the past. This might have provided the motive for the attack. On the other hand the assault might simply have been conceived as a means to gain kudos in the digital underground by its perps, Devil Hacker & Unix Web.
Zone-h has been the target of defacement attacks before. From time to time other defacement archives have been subject to denial of service attacks. So the latest attack on Zone-h, by far the best known defacement archive, doesn't come as a tremendous surprise.
Preatoni said Zone-h was taking the latest attack on the site in its stride since the purpose of Zone-h is to show that the "internet is insecure and unsecurable". ®