This article is more than 1 year old
Intel launches 802.11n Wi-Fi module
Access point vendors claim compatibility
Intel has begun shipping 'Kedron', the 802.11n-compatible wireless networking module that's a key component of the next generation of Centrino, 'Santa Rosa'. It has also persuaded a number of access point vendors to sticker their 802.11n products as Centrino-friendly.
Kedron's now officially called the Wireless Wi-Fi Link 4965AGN, marking an end to the old ProWireless branding. Intel claimed the part delivers double the range of its ProWireless 3945ABG and more than five times the data throughput - 270Mbps. The chip giant also claimed the module consumes less power, yielding up to an hour's extra notebook battery life, all other things being equal.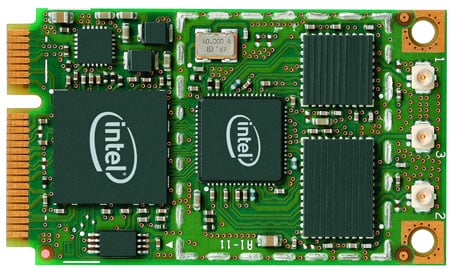 The card's based on a draft version of the 802.11n specification, which has yet to be ratified as a standard, although that process is moving closer. The IEEE working group developing the standard recently published version 1.10 of the draft spec., compatible with the previous version - on which many current 802.11n products are based - and, it's claimed, kinder to nearby 802.11b and g networks.
Intel's Connect with Centrino scheme has already won the support of Asus, Belkin, Buffalo, D-Link and Netgear, all of which will soon start putting stickers on their 802.11n products to proclaim their Centrino interoperability. Notably absent from the list is Linksys. ®