This article is more than 1 year old
Man dressed as The Joker gets ID card
Batman beyond
A Dutchman dressed as the unpredictable master criminal The Joker from Batman managed to get himself a national ID card, despite supposedly stringent new rules which outlaw grins, funny faces, and head coverings from passport pics.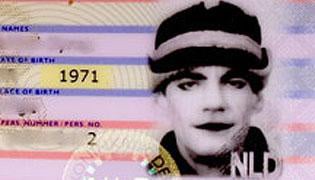 To avoid confusing facial recognition scanners, travellers in Europe have been ordered not to look too happy in their passport photographs. Eyes must also be open and clearly visible, and there must be no sunglasses, tinted glasses, or hair across the eyes. In the Netherlands, these rules were introduced last August.
But a 35-year-old man from the Dutch town of Hellevoetsluis decided to paint his face black and dress up as Batman's goofy trickster-thief rival and was astounded that his new appearance was accepted without a hitch. Initially, the man was asked not to wear a hat, but when he argued it was because of religious beliefs, he was allowed to leave it on.
The incident has stirred quite a controversy among Dutch politicians. Interior minister Johan Remkes now has to explain how this could have happened. "We don't think there are many people dressed up as clowns in this country," his department said. ®