WTF has my Wi-Fi network gone?
WLAN standard reaching its limits?
Hardware Headaches I own a Linksys WRT54G wireless router, and in the four years I've had it, I've connected it to two Macs, two PCs, a Nintendo Wii and a host of handhelds. It's been a joy to use, more so than the Proxim box I used to own. Until now. Over the last month or so, it's begun to drop connections randomly and without warning. Parts of my home once in reach of its transmitter have mysteriously become dead zones...
Judging from the activity in a number of Mac-centric online forums, my experience is shared by many Wi-Fi users and owners of a wide array of access points from almost every vendor. To fellow sufferers trying desperately to connect with a Mac, I'd point out that PCs are no better, sometimes worse if you use Windows XP itself to connect rather than third-party tools like the utility Intel ships with its wireless products.
Netgear rather kindly passed one of its travel wireless routers my way, a smart, easy-to-use way to share a broadband internet connection when you're out and about. I tried it at home in place of the Linksys box, but the results were the same: excellent coverage and connectivity most of the time spoiled by unexplained link losses.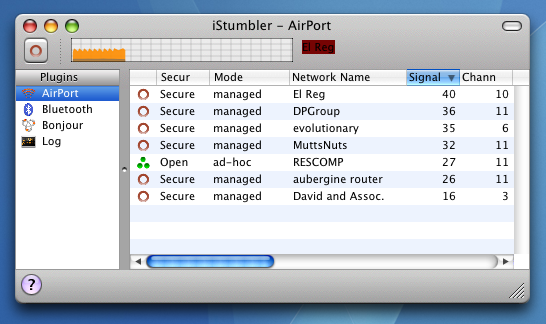 Now, when I installed the WRT54G, it detected maybe four nearby WLANs. When I put the Proxim in there weren't any at all. Now, the number's up to eight. A new one, clearly maintained by an Apple AirPort Extreme base-station, appeared for the first time last night. All this in a fairly typical London street.
I started out on Channel 1, moving to Channel 11 when I installed the Linksys. I upgraded from WEP to WPA at the same time. Since then, I've shifted to Channel 6. While most other WLANs are using 1 or 11, more are starting to use 6 as their owners perceive they may get a less crowded frequency. The open source tool iStumbler reveals just how busy the 2.4GHz band is becoming around me.