Samsung's BlackBerry-like SGH-i600 Ultra Edition 'super 3G' slimline smart phone is coming to the UK at the end of February, handset retailers suggest.
The i600 was unveiled at the Berlin-hosted IFA consumer electronics show in September 2006, though at the time Samsung was unable or unwilling to say when the Windows Mobile 5.0-based handset would ship in the UK. The company shouted about the handset again last December, but again didn't say when anyone here would be able to buy it.
Well, now we know. Online supplier Expansys has the handset down for 27 February availability. The price is £390 for an unlocked version.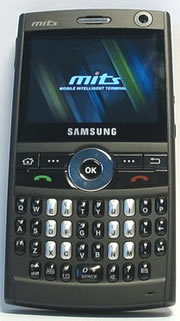 The i600 sports a 2.3in, 320 x 240, 65,536-colour screen and a QWERTY micro-keyboard. It connects to 3G networks and will use bandwidth-boosting HSDPA technology if it's present, falling back to GSM/GPRS in other locations. The handset also has Wi-Fi on board and stereo-enabled Bluetooth. There's a 1.3 megapixel camera on the back, and a 300,000-pixel (VGA) job on the front for video calls.
All this in a handset that's just 1.2cm thick. The i600's other dimensions are 11.3 x 5.9cm, and it weighs 99g.
Thanks to Duncan for the tip.