This article is more than 1 year old
Intel exposes 45nm Core 2 Duo
Penryn's 410m transistors revealed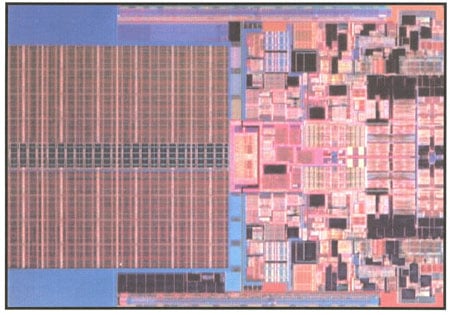 Say hello to Intel's 'Penryn', the 45nm architecture that will form the basis for the chip maker's next-generation desktop, notebook and server dual- and quad-core processors, set to ship sometime in the second half of the year.
Intel has already said it's punching out 45nm silicon and has booted a variety of operating systems on it. Today, the company confirmed that the dual-core die contains 410m transistors. The quad-core part will contain twice as many - 820m transistors - and Intel revealed that as per current, 65nm quaddies, the 45nm incarnations will be made by fixing two dual-core dies together in a single package.
The first commercial Penryns will come out of Intel's D1D and Fab 32 facilities in, respectively, Oregon and Arizona. A third plant, Fab 28 in Isreal, will come on stream in H1 2008. All three are 300mm-wafer fabs.
The 45nm Core 2 Duo, Core 2 Extreme, Core 2 Quad and Xeon processors Intel will build out of Penryn will match today's chips' power envelopes - 35W for laptop chips, 65W for mainstream desktop parts, and 80W for quad-core server and the gaming-oriented CPUs - Intel said, with the benefits of the shift in scale from 65nm to 45nm delivering higher performance.
In addition to microarchitectural improvements - including the addition of new SSE instructions - the higher performance will come through higher clock speeds and larger caches. Unfortunately, Intel wouldn't provide details - they will come later in the year, when it gets closer to announcing specific products.