This article is more than 1 year old
Logitech FreePulse Bluetooth headphones
Wireless audio without the weight?
Review Logitech's Wireless Headphones for iPod offering is back, in black and with a new, more generic moniker. The mouse maker also claims the new set's somewhat lighter to wear than its predecessor...
Out of the box, the FreePulse is a clear improvement, thanks to a svelte new design and smaller speaker units. I didn't have the old set to hand when I opened up Logitech's new package, but the new 'phones certainly seemed lighter than the old ones. Having since donned both sets, one after the other, I can confirm that Logitech is correct in its assertion.

Out with the old...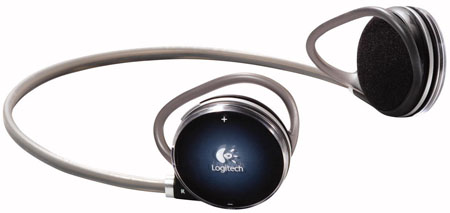 ...in with the new
The new earphones sport a thinner round-the-back-of-the-head band than last time, and separate, flexible ear hooks. The controls - integrated into right speaker - are much less fiddly to use, with the entire outer face of the right-hand speaker operating as the volume control and the right amount of give in each switch to ensure they'll trigger with just a tap.
Similarly, the Connect button on the transmitter is a little larger this time, so you can be sure you've pressed it, something you couldn't be certain of before. While the 'phones have become slimmer, so too has the Bluetooth transmitter, which is now as wide as a Nano and about two players thick.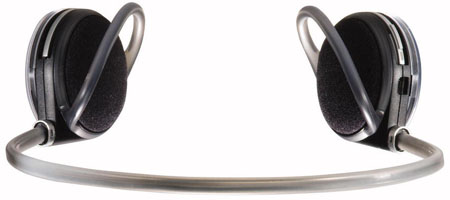 Once again, the Bluetooth dongle connects to a player's 3.5mm earphone socket, taking the analogue signal, digitising it them streaming it to the earphones. As before, the transmitter's 3.5mm jack can be moved to make for a more flush fit with whichever device you're connecting it to. Now, however, Logitech bundles six clip-on caps which anchor the jack precisely where it needs to be for any given iPod.