'Hobbit' islanders given species claim boost
Brain strain
Another salvo has been fired in the row over whether the remains of the Indonesian "Hobbit" people actually represent a separate species, or just malformed Homo sapiens.
The bones, unearthed from the Liang Bua limestone cave on the island of Flores caused a sensation when they were first revealed to the world in 2004, but have since been the source of much scientific tit-for-tat with research published arguing both cases.
At the time, the team which made the discovery said when combined with their primitive anatomical features, the advanced stone tools associated with the fossil cache suggested they had developed in isolation on Flores. A population of Homo erectus - one of our own ancestors - may have evolved into small island dwellers.
Later work by separate groups of researchers in 2006, however, said the three-footers may have been pygmys suffering from the rare congenital condition microcephaly, which retards the growth of the brain.
Now, a study of the skull of the only complete individual, a female known as LB1, published in the journal Proceedings of the National Academy of Sciences yesterday evening, says otherwise. CT scanning mapped the LB1's brain cavity, and was used to create a 3D model of the brain (pictured), which was around the same size as a chimpanzee and around a quarter of our own.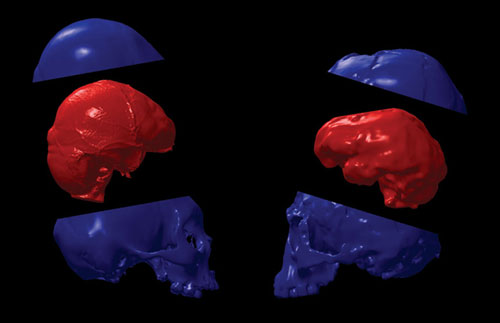 Modern microcephalic, left and LB1, right
Dean Falk at the University of Florida and colleagues argue their new data shows the Flores people's brains did not have the characteristic traits of a microcephalic human. They compared the Flores skull to nine modern cases of microcephaly, and normal skulls. They concluded not only did LB1 not have microcephaly, but was dissimilar enough to Homo sapiens to support its "new species" tag.
Professor Falk told the BBC: "People refused to believe that someone with that small of a brain could make the tools...[but] LB1 has a highly evolved brain. It didn't get bigger, it got rewired and reorganised, and that's very interesting."
The contention looks set to continue, however. Answers have been slow in coming; a part of the problem has been a bureaucratic tussle over rights to the bones and to further excavate the Liang Bua cave system.
The Australian reports a team now investigating a new chamber are hunting DNA from the Flores people, who are thought to have survived to as recently as 12,000 years ago. Numerous animal bones "showing evidence of butchery" have already been found at the bottom of the 430m2 chamber "in pristine condition", according to team leader Dr Mike Gagan of the Australian National University.
An expedition to the remote caves this June will look for remains of their hunters. Standard DNA profiling techniques should prove conclusively whether the so-called hobbits were human or a separate species. ®