My big, fat, lily-white Second Life
Would any black resident please stand up?
NSFW Column Roleplay in Second Life begins with the creation of one's avatar, or one's primary character. For many residents, the avatar, while certainly a character, also reflects something of the owner's real-life self. Sometimes this will involve a desire or a curiosity for which real life offers no route to satisfaction or exploration.
For this reason, gender bending is extremely common in SL. I've been told that up to 50 per cent of residents are playing members of the opposite sex, either in their primary avatar or character, or occasionally with an alternate avatar, or alt. My friend Tateru points out that this is potentially one of the more enlightening experiences a resident can have. As she puts it, it does a man good to pose as a woman and learn what it's like to be hit on every 30 seconds, while it does a woman good to pose as a man and learn what it's like to be treated with suspicion merely for saying hello.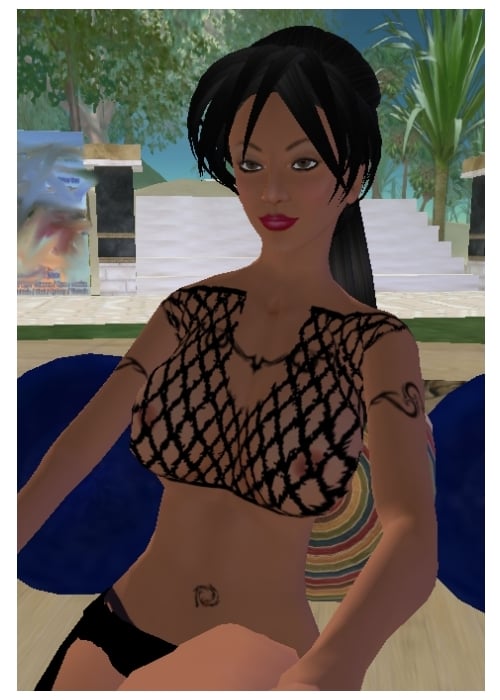 Avatars can go a lot farther than that. There's a thriving furry community, for example. There's a vast sci-fi roleplay community, with more than a few humanoid aliens. There are D&D-ish/LOTR-ish roleplay communities. There's Gor, and Midian City, a sort of Grand Guignol informed by Blade Runner and Doom. There's a Pern community, with several RP'ers using their dragon avatars as primary characters. Many players love their characters so much, they choose to experience SL through them exclusively.
But one feature struck me immediately, and hard, when I first joined the game: the whiteness of it all. I almost never ran into a black person. Even in the "urban contemporary" and Caribbean clubs, one has to search persistently for a glimpse at a suntan.
Second Life residents will turn their avatars into any form imaginable: they'll gladly make themselves aliens, cartoons, animals, even insects. But not Negroes.
Why is this, I wondered? People will play almost anything except this one, incredibly obvious, role. Why is changing one's race so much more difficult than changing one's sex, or age, or even species? And so I set about investigating. As a first step, I bought an African skin and shape, and modified them to my liking. And I don't mind saying, I think the results are spectacular. Turn the page, dear reader, and behold the new me.