Exclusive People quick to buy Microsoft's new Vista software face a dilemma never before seen in the operating system kingdom – Do I let my new lesbian "girlfriend" know that I am really a man?
A reader - "Hanging in Lesbos" - asked that very question when writing in to Second Life Herald's reader advice column. As the nom de sadville suggests, the chap has been working out in Second Life's famous lesbian paradise, Isle of Lesbos. And, beyond encountering horny women or horny men pretending to be women, he's run into ads from Microsoft for Vista.
Microsoft hand-picked 10 Sadville destinations to show off Vista via a virtual press conference that included visits from top executives Bill Gates and Steve Ballmer. The venues range from marketing firm displays to steamy man-tamer bars inhabited by avatars with moral and cartoonal flexibility.
Kitten Lulu, an esteemed Register reader and Second Life inhabitant, summed up the locations for us.
Strawberry Estate, not sure what it is. There isn't much there apart from an atomium-like structure
Parioli, a PG Italian sim by Virtual Italian Parks
Sanctuary Rock, dance and music club dedicated to good rock music
Elements @ Goddess Of Love 3, one of the leading SecondLife dance and night clubs
Crayonville Island, a marketing company's sim
Isle of Lesbos, the name says it all: an entire sim dedicated to (virtual or real) women who love women (i.e. Second Life's lesbians)
Mermaids Gentlemans Club
ShowGirls Gentlemen's Club
Liquid Dreams, in their own words: "The Premier Adult Experience - The newest Adult Club in Industry Offering Escorts, Dancers, Sex Roms, Skyboxes and More!"
Irie Vibes Club, reggae roots dance hall
LuLu's take on the tawdry collection? "I guess they want to convey the idea that Windows Vista is sexy . . . but not free."
For a moment, we thought Lulu might be making this up. Surely, Microsoft did not pick four sex clubs and hump groves to promote Vista.
Ah, but it's true.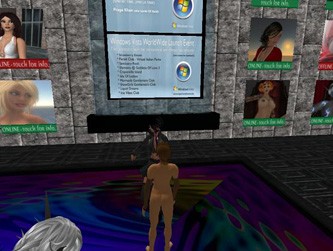 Microsoft's European Enthusiast Evangelist – does it get more exiciting than that – Miel Van Opstal has confessed everything on his glob. [There's a larger shot of Microsoft's Sadville sexiness here.]
LuLu can't be blamed for failing to know Strawberry Estate. That's Van Opstal's "own chunk of land in the game!"
And how does Van Opstal view, say, Liquid Dreams?
"Closing the line is the Liquid Dreams club. An industrial strip joint with a load of Lords of Acid fans. They were amongst the first to literally beg to become a partner, and they've been arranging ad space with most of their partnering malls and clubs. These guys are overjoyed to be part of our little initiative."
Has Microsoft lost all shame? And where oh where is Daniel Sadville when you need him? Put on the cape, fella, and dive. ®