Review While other manufacturers flap about trying to decide what format to back in the HD DVD/Blu-ray Disc war, Toshiba has been solidly behind HD DVD since the start. The HD-E1 is the first consumer-oriented standalone HD DVD player available in Europe, so you can now feed your HD telly something decent.
And decent its output is indeed. DVD was easily better than VHS, and while the step up from DVD to HD DVD isn't as immediately noticeable, spend a little time watching it and when you go back things just don't look quite right.
DVD looks sharp enough for close-ups, but things in the background are invariably a little fuzzy. Switch to HD DVD and everything is pin-point sharp across the entire frame. It's a bit like getting a new pair of glasses - everything looked fine before, but the world just seems so much more detailed afterwards.
In addition to HD content, the HD-E1 will also try its darndest at making your standard DVDs look their best by upscaling them to HD resolution. While this is a nice addition, it doesn't really add that much - it's nowhere near as pronounced as the switch between HD DVD and DVD. You're also limited to upscaling only on displays connected via the player's HDMI port - it won't do upscaling over a component-video link.

Although it's a living room player, the HD-E1 isn't completely silent. While it's nowhere near as noisy as an Xbox 360 plus HD DVD drive, you can still hear a slight whir. However, it's only really noticeable when you first switch it on or if you press your head up quite close to it. Watch a movie sat across the other side of the lounge and it's unlikely you'll even hear it over the film.
Although HD DVD offers a maximum resolution of 1080p, the HD-E1 can only output at 720p or 1080i. The forthcoming - and more expensive - HD-XE1 will rectify this. The lower-end model is also a bit slow on the draw - pop in a disc and you'll be waiting around 30 seconds before you see anything on the screen.
Design-wise, the HD-E1 looks, well, pretty much like a DVD player, albeit a slightly bigger one. It's not going to win any awards for its looks, but likewise it won't stand out from your other AV kit.
The front is quite sparse - with just on/off and eject buttons and a display. Fold down the flap underneath and you'll find a row of buttons to control playback - handy if you've temporarily displaced your remote - and two USB ports, which Toshiba calls "extension ports".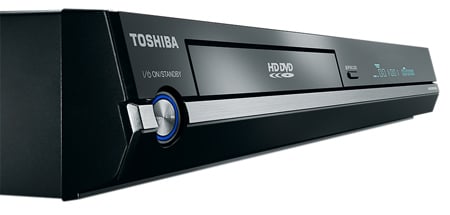 Don't get excited by the USB ports just yet - the manual states "the extension ports may be used in the future for additional control options". I tried plugging in a variety of devices but it wasn't possible to coax the player into doing anything more than supply them with power.
Sponsored: Ransomware has gone nuclear