UK makes complete FIST of hi-tech soldiering
Shop online for tomorrow's fighting technology - today
---
Analysis Anyone who likes gadgets should give some thought to joining the infantry. Okay, the pay is peanuts, the work is grim, you'll have to live in a baking fortified camp in Southwest Asia, where you might easily get blown up, shot, or have to strip naked and fight your buddies with rollmats. But you will get some neat toys. Already the soldiery have thermal imagers, night sights, headset radios, and a military wireless network called Bowman.
And this existing gear is old hat, it seems. As well as Bowman, the British army has a project called FIST, or Future Integrated Soldier Technology. FIST doesn't include any actual weapons. It is meant "to provide an intergrated fighting system in order to improve the operational effectiveness of individuals".
The idea is that FIST will kit our lads out with a helmet-mounted heads-up display, gunsight, and helmet cameras with various kinds of imaging, GPS mapping, and probably laser range finding. All this will be tied into the Bowman network using a secure wireless link. So the squaddie of tomorrow (well, the squaddie of 2015 - if the programme runs to schedule) will be able, as they say, to "Do Amazing Things".
He'll be able to point his rifle round a corner and see the picture from its gunsights. He'll have a moving-map navigation display at last. A mere 10 years or so after minicab drivers got them. Not only will he know where he is, but so will his various bosses. Perhaps best of all, our soldier can potentially ping an enemy tank with his rangefinder and send the target coordinates out on the network. This will permit some kind of major bad news to fall out of the sky on that exact spot - a smart bomb, a salvo of artillery, or a cruise missile.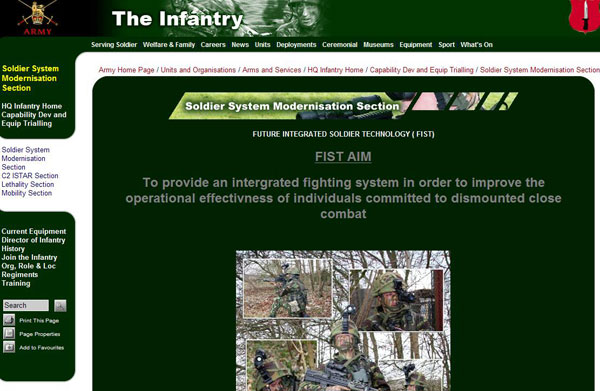 Interestingly, under current plans our soldier's basic pay will still be about £14k pa. This, despite the fact that he's doing a literally life and death, mission-critical job, personally carrying well over a hundred grand's worth of stuff and perhaps directing other things which cost tens of millions. His pension scheme is good, of course, but the sting in the tail is that the army can, and often does, throw you out after 22 years - so, in fact, most soldiers don't get the kind of pleasant retirement that, say, policemen or firefighters do. In the case of infantrymen, they're also significantly less likely to live that long.
Funnily enough, the infantry has always had recruiting difficulties. These days it's getting hard to find anyone at all, in the UK, anyway, willing to sign up. The army hasn't yet reached the point of formally outsourcing, but it does hire an awful lot of people overseas.
Any of this sound familiar to IT professionals?
Still, maybe things aren't all bad. At least a tightfisted employer like the army must be keen on value for money when it comes to sourcing the hardware – which would be good news for UK taxpayers.
Well, you might think so: but you'd be wrong. The FIST programme is to cost a cool £2bn for 29,000 sets of kit, putting each package at £70,000. The gear is supposed to be up and running around 2015. In defence-procurement terms £70,000 is chickenfeed, of course. But it would buy a pretty sexy set of gadgets, right now, off the shelf. Retail, actually.
A UMPC needn't cost more than £1,000. Even a pointlessly expensive, ruggedised mil-spec job with built-in GPS, lots of software and 3G connectivity doesn't go more than £4,000, and it might well be easier to put ordinary machinery in a suitable case. You want a heads-up display, to mount on the safety eyewear already being issued? £1,400 tops. Tough waterproof video cameras? From £100. Binoculars which will mark targets for your GPS-enabled computer? To you, sir, £2,000. It won't be long before you can buy a thermal-imaging version: the US Marines already have, at just over £6,000 per unit, over a year ago. How about a nifty thermal-imaging gunsight/helmet visor which can feed its image to your UMPC and heads-up display: just £7,000. Let's top things off with a laser-dot and tactical lamp gizmo to go under our rifle barrel.