This article is more than 1 year old
Solwise PL-200AV 200Mbps powerline Ethernet adaptor
The cure for wobbly Wi-Fi?
Review Devolo's first HomePlug AV powerline Ethernet adaptor, the dLAN 200 AVdesk, wasn't a unit that plugs straight into a mains power socket, unlike Netgear's HDX101, which I reviewed last week and, for that matter, UK vendor Solwise's 200Mbps PL-200AV product. But while the HDX101 and the Solwise use much the same form-factor, they're based on different technologies.
HomePlug AV is the HomePlug Alliance's 200Mbps specification, incompatible but capable of co-existing with the original 14Mbps HomePlug 1.0 standard and its 85Mbps extension, HomePlug Turbo. None of them will talk to Opera-based boxes like Netgear's HDX101 and products from D-Link.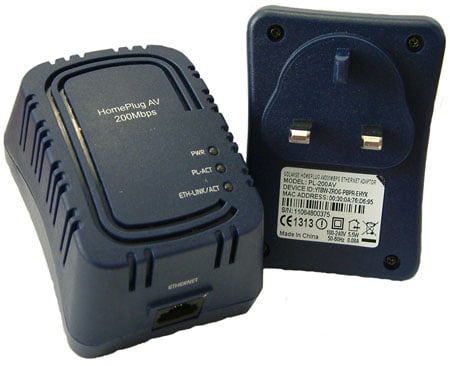 Solwise's PL-200AV units are smaller and less chunky than the Netgear product, though not as compact as 85Mbps units I've tried in the past. They're still too big for multi-port sockets - you may have a job getting even a standard-size plug in next to one - and they follow the usual pattern: mains pins on the back, 10/100Mbps Ethernet port on the base. Yet again, the MAC and device ID numbers are written on the back of the device, so make sure you scribble these down before you plug it in.
Like the Devolo AVdesk, the PL-200AV is based on Intellon's INT6000 HomePlug AV chipset. The 200Mbps is, of course, the theoretical maximum that the adaptor is capable of pumping out raw data. Allow for error correction and other control traffic, and you're looking at a best-case scenario of 120Mbps. In the real word, the typical throughput lies somewhere between 50Mbps and 70Mbps, depending on the state of your mains wiring, hence the 100Mbps Ethernet port, which might seem at first too slow for a 200Mbps system.
So how realistic are those numbers, provided by Solwise? Once again, I connected a MacBook Pro and a Sony Vaio notebook between upstairs and downstairs rooms in my home. By necessity, the upstairs box was connected to a small extension cable. Powerline Ethernet adaptor suppliers warn against using multi-socket boards, but I had to and so, I suspect, will many other users. The key, I'm told, is to make sure the board doesn't contain surge-protection circuitry - that's the killer. For testing, I used a simple two-socket extension cable with nothing plugged into the second socket.