This article is more than 1 year old
Solwise PL-200AV 200Mbps powerline Ethernet adaptor
The cure for wobbly Wi-Fi?
The PL-200PE ship with software that provides no control over the QoS, but I understand it's pre-set to favour UDP traffic, the better to support streamed video, an application that usually relies on UDP. With iperf, I measured a 'spare' TCP bandwidth of 40.4Mbps and UDP throughput of 30.4Mbps. The 1080i HD video played smoothly throughout the tests.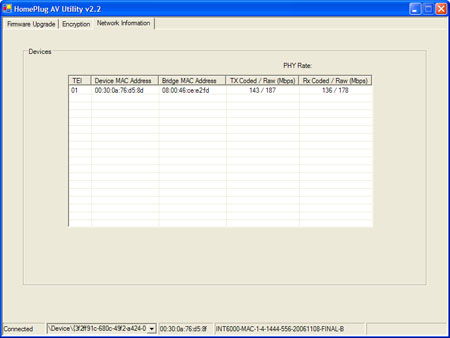 Click for full-size screenshot
The Windows-only software bundled with each PL-200AV is basic, limited to providing a means to update adaptors' firmware and an opportunity to change the password that's automatically used to encrypt data sent back and forth between adaptors.
Solwise doesn't offer the PL-200AV in two-unit networking start packs as the other vendors I've looked at do. But since there's generally only a few pounds saving to be made buying the bundle, that's not a big problem. Solwise is asking £71 inc. VAT for its top-speed powerline adaptors, just £6 more than the HDX101s, £29 less than than Devolo dLAN AVdesk units and £14 less than the socket-fitting dLAN 200 AVs Devolo is now offering.
I you're a Windows user, the Solwise PL-200AV units are the best buy for a HomePlug AV compatible set-up and the Netgear HDX101 for the lowest price. Mac and Linux users, however, should consider forking out the extra for the Devolo units, as it's the only one of the three to provide versions of its adaptor configuration utility for those platforms, and such work ought to be rewarded. All the adaptors reviewed will, however, work without the need to run the configuration software, so in that sense the devices are all platform-agnostic.
In light of my experiences of late with 802.11g Wi-Fi - problems a great many Reg Hardware readers share, if the 70-odd emails I've received are anything to go by - it's hard not to recommend powerline Ethernet networking. Its performance is potentially well below the headline number the standard bodies and vendors like to shout about, but then so too is Wi-Fi. Even at the bottom of the range, the throughput is better than 802.11g and safe, in most cases, from other networks interfering with yours.
Verdict
Solwise's PL-200AV is a good powerline Ethernet adaptor. The price is good, the software could be better, but it's really performance that matters, and the units deliver. You'll never get 200Mbps, but you should certainly beat current Wi-Fi standards - without the risk of interference from other signal sources, more to the point.

Solwise PL-200AV 200Mbps powerline Ethernet adaptor
High-speed home networking without wobbly Wi-Fi...
Price:
£71 inc. VAT per adaptor RRP