This article is more than 1 year old
Microsoft Zune wireless music player
Microsoft attempts to win over the iPod-infatuated
Review After five years Microsoft has decided to combat Apple's domination of the portable music market head-to-head with Zune - a hard drive-based MP3 player with full colour screen and built-in Wi-Fi music sharing...
Zune is only available in the US at the moment - and Microsoft is keeping tight-lipped about when the player will actually be launched in Europe. The current rumour mill suggests anytime in the next few months all the way up to Christmas.
Although there's nothing stopping you from picking one up if you happen to be in America and bringing it back, you won't get the full experience. While you'll be able to load your own music and videos onto it without any problems, you can't access the Zune Marketplace music store, which is a shame since it offers one feature iTunes doesn't: a Napster-like subscription service.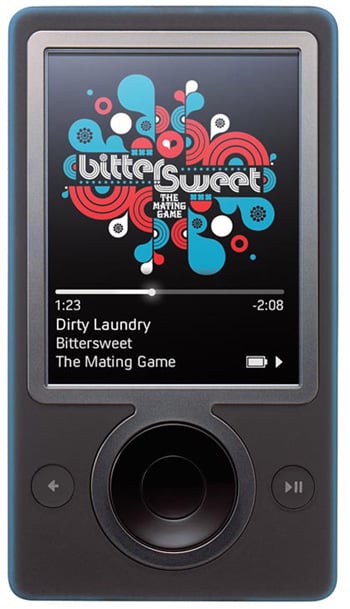 For a flat monthly fee of $15 (£8) you can download as much music as you like and take it with you. You're free to listen to the music as long as you pay the subscription fee. Stop paying and you'll have to stop playing.
You can also buy individual tracks from Zune Marketplace, but you have to pay in Microsoft Points, something Xbox Live users will be familiar with. Basically you buy points in your local currency and then spend them in Zune Marketplace or Xbox Live. A hundred points will set you back $1.25 in the US and 85p in the UK. Individual tracks cost 79 points - which works out at $0.99 - the same price as iTunes in the US.