Turn on the Zune and the first thing that strikes you is the 3in screen that dominates the front of the unit. While it works well in portrait mode for navigating your music collection, where it really shines is video - turn it to landscape mode and you can view widescreen content on a relatively large scale for a portable player.
Unfortunately, you'll have to transcode any video content into WMV format first as that's the only type of video the Zune will play natively.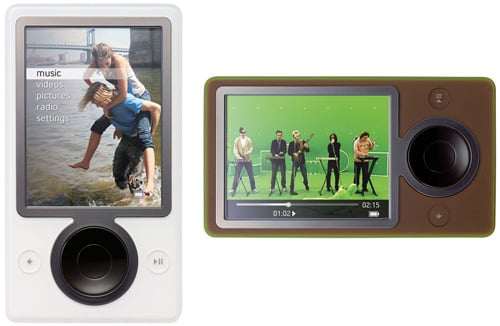 The interface is simple to use - especially once you realise that the round thing at the bottom is actually four buttons for up, down, left and right and not an iPod-style click wheel. The interface is very similar to the one Microsoft developed for its Portable Media Center platform, with the ability to go left and right in menus as well as up and down, which can speed up navigation.
Zune's user interface in action...

Video not playing? You'll need the latest Flash player
Audio quality is very good - even through the bundled headphones, which are capable of producing a moderate amount of bass and can be pushed fairly loud without distorting too much. The headphones are also magnetic, so stick together when not in use which prevents wire tangles.
In addition to MP3 and WMA tracks, the Zune can also play back unprotected AAC content - so if you ripped all your albums in iTunes in the default AAC format you can still play them on a Zune without having to convert them to WMA or MP3 first.
Sponsored: How to simplify data protection on Amazon Web Services