Forget about the iPhone, does anyone fancy an nPhone? Yes, Nintendo has successfully patented a handset design that incorporates not only all the usual phone buttons but also a trio of game controller keys too.
The Japanese videogames pioneer has actually held the patent for some time. Filed in November 2001, the intellectual property protection was granted in June 2006. But since we've not seen the details enshrined in US patent 7,069,044 before, we reckon it's worth bring them to a broader audience. Here's what it suggests the device should look like: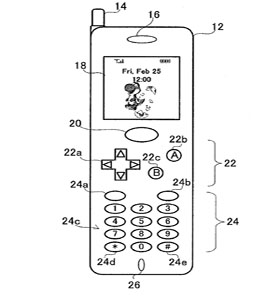 Of course, there's nothing actually clever here - it doesn't take a genius to conceive of building game-specific control into a phone, any more than putting music playback buttons or a QWERTY key layout there too. But Nintendo got there first, whether to grant it ownership of any attempt to make such a device in the future, or because that's where it's own interests lie.
Might Nintendo offer such a handset? It's certainly possible, and if Apple achieves some success with the iPhone - and, for that matter, Microsoft with the much-rumoured Zune handset - maybe it will figure such a gadget is worth a punt.