This article is more than 1 year old
Nokia goes Communicator crazy
E-series expands
Under fire from financial analysts for the tepid performance of its Enterprise group, Nokia is set to add two new products to its business range and revamp its hit communicator, the E61.
The long awaited successor to the Series 80-based 9000 range, the E90, offers a full QWERTY keyboard and widescreen display in a device with a sliding hinge. based on S60.
Specifications were leaked to My-Symbian in December and removed at Nokia's request revealed 800 x 352 (main) and 320 x 240 (front) displays, integrated GPS, and in line with the rest of the E-series, Wi-Fi and 3G support.
Java benchmarks for the E90 filed by Canadian carrier Rogers suggest a device with 3x the performance of today's E61 - although that's not a phone exactly optimized for multimedia.
Pictures of the first slider phone in the E-series business range, the E65, have leaked on to the web in the past few days,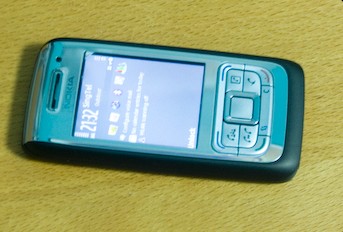 Nokia's E65 slider business phone
There are more pictures at and a video here.
The E65 is ready to ship.
Nokia will also unveil an enhanced version of the E61, with camera and slightly revamped keyboard - the E61i. Initially regarded as a Blackberry knock-off, the E61 has become a success for the company with IT departments, and has picked up some distinguished fans.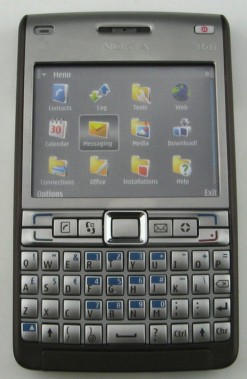 Nokia's E61i
Nokia deserves much credit with its E-series phones for defying its biggest customers - the cellphone carriers - and building in WLAN and SIP stacks into all of the devices, creating a new market of VoIP providers. By integrating the SIP stack with the device's power management there's a clear advantage over rivals running VoIP as a third party application.
Nokia's first attempt at a "Communicator", the 9000, debuted 11 years ago, using an Intel chip and the GEOS operating system. Nokia adopted Symbian for the "brick" design in 2001, following up with a slimmed-down version, the 9300 two years ago.
Alas there's no word for fans of the "gullwing" design, last embodied by the Nokia E70. The red-headed stepchild of the E-series range got a chilly reception from carriers, despite its unique advantage of boasting a full QWERTY keyboard in a regular form factor housing. Users have been waiting since August for a firmware update - with an official version 3 update never reaching customers. We understand new firmware is in the offing, however.
It would be a pity if this was the last we saw of Nokia's cleverest and most practical design in recent years.