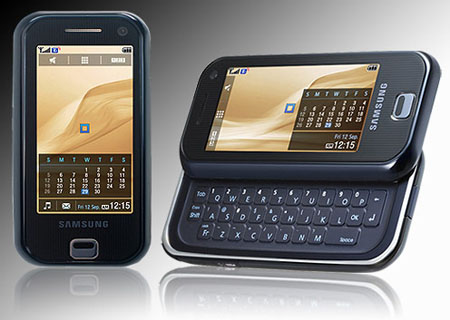 Samsung has formally unveiled its bid to be the leading purveyor of iPhone-alike handsets with the Ultra Smart F700, launched today but which will get its first public outing at the 3GSM show next week in Barcelona.
The F700 is a tablet-like handset with a slide-out QWERTY keyboard, a form-factor pioneered by HTC in devices such as the TyTN. Like TyTN, the F700 is a 3G UMTS device but also supports the HSDPA 7.2Mbps-download technology, network availability permitting. It also has a tri-band GSM/GPRS/EDGE radio.
Unlike HTC's handsets, the Samsung has no Wi-Fi, but it does have Bluetooth on board. It also sports a five megapixel camera with autofocus. The 220 x 440 touch-screen display is 2.78in in size and capable of showing 262,144 colours.
Eschewing the usual handset user interfaces, Samsung has chosen to kit the F700 out with a Flash front-end, the better to match the iPhone's smooth animations, arty icons and general Mac OS X loveliness.
The South Korean giant has form here. Don't forget, Samsung last year confessed to cribbing a series of OS X icons to use in an earlier phone UI developed for its so-called Skin slider phone.
Update And thanks to reader Simon Prentagast for pointing out how much the F700's QWERTY keyboard looks like the one found on a certain fruit-branded consumer notebook...
Similar topics