German model railways derailed by filth
Nude figurines get down and dirty
---
NSFW You know how it is: you've just spent five years lovingly crafting an HO-scale layout of Clapham Junction but can't help feeling there's a certain something missing which would lend your model railway an authentic urban edge.
Well, fret not, because down at the International Toy Fair in Nuremberg, the Busch company recently unveiled its "latest contribution to the model train scenery business" - a set of figurines depicting a group of cops dragging naked strumpets onto the street and entitled "Police Raid on a Brothel".
We kid you not. Spiegel Online has photographic evidence here (NSFW), and also features a nice snap of the Viessmann company's "Sexy Lovers in Motion" - accurately described by the paper as "a man and a woman having sex on a red blanket, in the missionary position".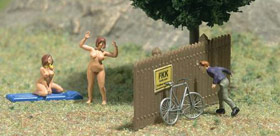 Yes indeed, the world of model railways really has moved on since I was a lad. Shown here is one of the tamer offerings by Busch - "Admiring the Scenery" - which comes complete with "air mattress, fence with 'knothole', bicycle and tree".
If you fancy something a bit more hard core, try Fleischmann, whose toy fair display included a river beside which "a heavily built and highly aroused man is...getting a blowjob". Spiegel Online elaborates: "His arms are outstretched. He's frozen in an eternal orgasm. The woman providing him with his public bliss is sitting on an inflatable mattress and wearing a straw hat."
Remarkable. Suffice it to say, the Vulture Central train layout now features a naked prostitute trying to avoid arrest by orally pleasuring a police officer while a bloke on a bike cops an eyeful through a hole in the fence. ®
Bootnote
Thanks to Mike Richards for the tip-off.