3GSM After apparently canning a GSM version of its Q BlackBerry-like smart phone back in February 2006, Motorola has now said the handset will come to market during the second half of 2007. The 3G Q believed to have played a part in nixing the GSM model - and originally due Q4 2006 - will ship sooner, the company said today.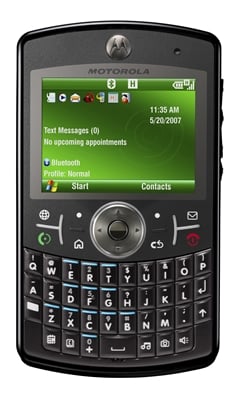 The UMTS Q is called the q9. It's a Windows Mobile 6 Standard device and supports the 3.6Mbps HSDPA download speed boosting technology. It's essentially the handset that made an early, unscheduled on the web in November 2006 and claimed to be called the Q Pro.
The Q q9 has quad-band GSM/GPRS/EDGE connectivity, Bluetooth with A2DP wireless stereo support, a two-megapixel camera, a MicroSD card slot for up to 2GB of memory expansion, USB 2.0 wired connectivity, and a 320 x 240 display.
The Q gsm has the look of the older Q and a lesser spec than the UMTS model: the camera's just a 1.3-megapixel job, its Mini SD slot is limited to 1GB cards and its a USB 1.1 device. Still, it does have quad-band GSM/GPRS/EDGE and a 2.4in 320 x 240 display. It has 64MB of RAM and 128MB of Flash on board. It too will run Windows Mobile 6 Standard.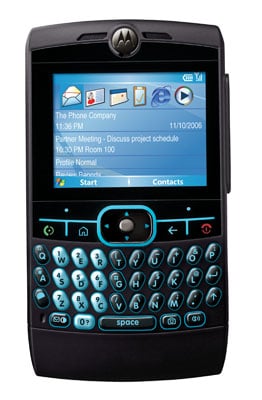 When will they ship? It depends which Motorola press release you read. They all have the Q q9 shipping in Q2, but while some say that's when the gsm model will ship too, others point to an H2 release timeframe.
Similar topics