Moto's banana beats Nokia's brick
Gadget porn stand-off
It's the software, stupid
The other aspect where the Nokia's nouveau brick disappoints is in the applications. The E90 runs S60 FP1 (Feature Pack 1), which is pretty much the same severely-hobbled) PIM suite that's shipped in Series 60 for the past five years. That's fine if that's all you were expecting. But for Communicator users it's not so much a step, but a giant leap`backwards. Even 9300 users could prioritize multiple tasks lists. With the latest Communicator, you can't even add categories to To Do lists. And forget about priorities... Nokia has added multiple alarms to the Clock application, to bring it closer to the Series 80 Clock app, but even that's short of the old Psion application.
It's only after some time with the applications that the stupidity of using S60 in a rich device such as this becomes apparent. Gone is the pull-down menu, which invoked a Mac/PC-like menu bar. Instead there's the two-button S60 menu, which you probably already know is a one button menu, as the secondary soft key is devoted to a 'Back', 'No' or 'Cancel' function.
So despite all this new screen real estate, (800x352 vs the old 640x200 means more than twice as many), almost every function hangs off a single menu. What made perfect sense in a simple smartphone designed for one-handed use, makes no sense at all in a mini-PC style communicator. Nokia seems unable, or unwilling to develop around the consequences of design decisions taken many years ago.
When the company folded its Series 80 and Series 90 Communicator platforms into Series 60, it had good pragmatic reasons to do so. But we never imagined the process would result in such an awkward Communicator user interface. I'm writing as a critic who has been staunchly supportive of the concept for many years, so I'm naturally disposed to defend this kind of device.
Earth to Nokia: you need a Brian Clough to sort out the S60 department, starting at the top down.
Moto raises UIQ from the ashes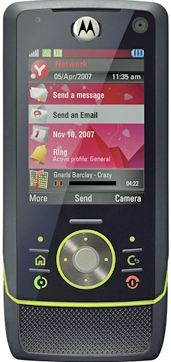 While the E90 falls far short of the hype, the new Moto UIQ phone cheerfully exceeds all expectations. TheMotorizr Z8 comes from the British design team that Motorola acquired when it bought Sendo. And they've done good.
Given the agony that Sony Ericsson has experienced with its two UIQ3 products of last year, the P990i and the M600i, we'd have turned down very long odds on the following: that UIQ3 could be fast, that it could be rendered usable, and that it could be anything other than clunky to use one-handed. The design team has rebuffed all doubts here.
It has achieved this by ripping up the design guide, and applying simple common sense. Several UI elements have been stripped out, and in their place sensible buttons such as a Home key.
With Motorola's UIQ implementation, some things are quite subtle. The fonts render beautifully, unlike the P990i, which looks as if the fonts have been rendered using fountain pen ink onto slightly damp paper. But overall, the designers have been flexible, pragmatic, and above alll coherent - qualities notable by their absence from S60 in recent years.
As for the hardware, the 'kick slider' feels very robust. You could be forgiven for thinking you've broken the phone when you first extend the slide - it takes a little getting used to. Sliding the lower half of the case down causes the front part of the upper portion to slide along a roller, tipping it forward a few degrees. Hence the 'banana' shape.
What the Z8 does well is multimedia: Motorola claiming it can render 30fps video on its QVGA screen. Sky is lined up as a partner allowing subscribers to take their shows with them, and you can also use the phone to program your Sky+ box remotely.
The 'Rizr Z8 isn't a touch screen device, and the absence of rapid text input may deter parts of the market which might otherwise be attracted to the device. But we hope that pen-based variants aren't too far behind, as the phone has the potential to win converts from Blackberry, Palm, Windows Mobile and Nokia, not to mention Sony Ericsson itself, which has create a whole new class of defectors with the sorry P990i saga.
With the fashion in marketing tilting towards strict segmentation, conventional wisdom suggests that manufacturers shouldn't try and create devices that appeal to everyone: business users as well as entertainment and media enthusiasts. Both Nokia and Moto appear willing to disprove that. However it's Moto, with the UIQ Rizr, that stands the best chance of proving one phone can 'do it all', and do it pretty well.
In the smartphone business, Motorola is back with vengeance.The Z8 will be available in April. ®