D-Wave showed three examples of Orion in action, marking the first such demonstration of a quantum computer. The most impressive display came during a drug molecule matching exercise, while two less impressive efforts had Orion crunch through a party table seating arrangement that paired like-minded guests and then go on to solve a SudoQ puzzle.
But there's only so much you can do with 16 qubits. So, D-Wave plans to produce a 32 qubit chip by the fourth quarter, a 512 qubit chip in the first quarter of 2008 and then a 1,024 qubit chip in the third quarter of 2008. D-Wave next year will also allow customers to send calculations to the Orion system via the internet and then have calculations returned to the customer and then later in 2008 ship actual systems.
The cost for such boxes will likely be comparable to large, high performance computing clusters.
Of course, these grand plans might fail to occur.
"It could turn out that these systems are not protected (from interference) the way we thought that they are," Rose said. "If so, this system could dead-end after 16 qubits.
"If you combine too many of these devices together and you are not good enough at filtering out the noises, then you will end up with a hunk of a (trashed) computer."
Start-ups rarely admit to such disastrous possibilities, as you all know too well.
Hear a brief clip with D-Wave's CEO
Even worse, D-Wave might not have a quantum computer at all. It might have just produced an odd, analog beast.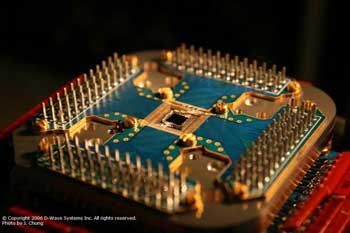 "We have done tests that show there is very compelling evidence that this thing is behaving as a quantum computer," Rose said, when pressed on this issue by a questioner in the audience. "We have have a large amount of supporting evidence that I am not going to release today because it is being submitted for peer review."
So why would a company with so many questions launch its product now?
Well, D-Wave claims it wanted the world to know how far it has come with the quantum technology. It wants people to begin thinking that such machines could be the real deal. Most importantly, D-Wave wants labs, companies, partners and developers to begin playing with Orion.
The company claims that current code can run almost unmodified on the Orion system, and it would love to have some top flight high performance computing geeks put such a claim to the test.
Hear a brief clip with D-Wave's CTO
Have we seen the future?
The D-Wave crew sure made it seem that way. The company is the first start-up that we've run across to eat up more than two hours with its product launch, which was attended by close to 400 people. That said, the management's mix of enthusiasm and frank realism made the pitch all the more believable.
While systems go on sale in 2008, D-Wave clearly has a lot of work to do proving the merits of its technology. The company has taken a brute force approach to the quantum computing problem by focusing on churning out as many qubits as possible in the shortest amount of time. You have to give the team credit for such a risky attack given that rivals are busy refining more sophisticated, but as of yet untouchable systems. ®
Similar topics
Broader topics