3GSM

HTC has unwrapped a trio of smart phones, including the eagerly anticipated Advantage X7500 - the UMPC-like successor to the manufacturer's Universal 3G handset. It also rolled out its first candybar form-factor phone with a slide-out QWERTY keyboard.
First, the X7500. The spec's now well known: 624MHz XScale processor, 8GB hard drive, tri-band UMTS with HSDPA, quad-band GSM/GPRS/EDGE, 802.11b/g Wi-Fi, Bluetooth 2.0, QWERTY keyboard. However, HTC confirmed that the device will ship over here as the T-Mobile Ameo, arriving next month in the UK, Germany, Austria, the Netherlands and Poland, and in a number of countries under the HTC brand.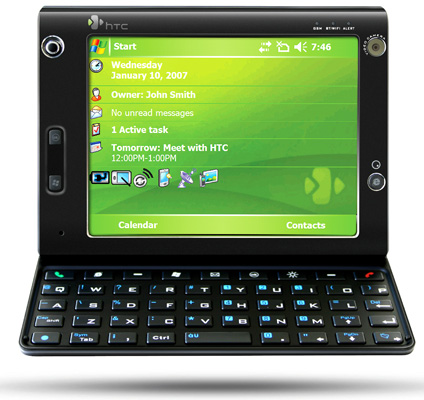 Orange gets first dibs at the HTC S710 - aka 'Vox' - but will sell it as the SPV E650. It's got a 201MHz Texas Instruments OMAP 850 processor, 64MB of RAM, a 2.4in 240 x 320 display, quad-band GSM/GPRS/EDGE connectivity, 802.11b/g Wi-Fi, Bluetooth 2.0 and a two-megapixel camera.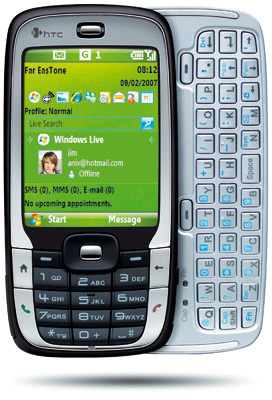 HTC said the S710 offers up to seven hours' talk time and 175 hours' operation in stand-by mode. It's a Windows Mobile 6 Standard device. Curiously, the X7500 isn't - it's listed as Windows Mobile 5 product.
The P3350 is the anticipated GPS-less version of the P3300, which HTC launched last autumn. This time the focus is multimedia rather than navigation. The P3350 has the same specs as the S710, though there's no Wi-Fi here and the display is a larger, 2.8in model. Talk time runs to four hours; stand-by operation to 200 hours. Like the Advantage, the P3350 is listed by HTC as a Windows Mobile 5 device.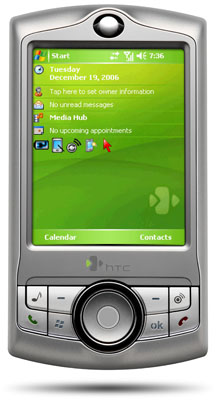 The P3350 will go on sale "through a range of HTC's operator and distributor partners", the company said, giving no further details. Orange will bring the SPV E650 to market some time during H1, it added.
Similar topics