Warning: graphic content A bloody war between rival Mexican drug gangs has spilled onto YouTube where two competing cartels "taunt each other with blood-soaked slideshows and films of their murder victims", Reuters reports.
The war between north eastern Mexico's "Gulf Cartel" - with its private army "Los Zetas", led by Osiel Cardenas, and "traffickers based in the western state of Sinaloa" headed by Joaquin 'El Chapo' Guzman - last year claimed more than 2,000 victims.
Mexican president Felipe Calderon responded by dispatching troops to several states to restore order, although the killing appears to continue unabated, if the video evidence is anything to go by.
Indeed, Reuters notes that on YouTube "one popular video shows a man being shot in the head" while a "stomach-churning series of photos shows another execution victim, his missing face a mangled mess of flesh".
According to the news agency, in one YouTube post, a user "offers about $4,500 to anyone who can show proof of having killed members of The Zetas, 'via photo, video or presenting the body'."
Much of the material makes reference to a popular narco corrido ballad called "To My Enemies"; sung by Valentin Elizalde and "widely seen as a musical attack on The Zetas". Elizade was shot dead last year after "reportedly performing the song at a concert in Gulf Cartel territory".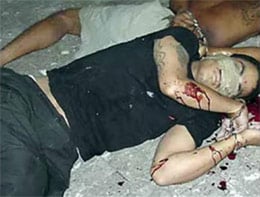 One pretty typical example (NSFW, graphic content) of the Mexican drug cartel video genre, entitled "To my Enemies - I killed them", shows photos of an execution scene (seen here) in which the killers have left a written warning on the floor declaring: "This message is for you Chapo Guzman". The comments include predictably partisan exchanges of insults between rival gang members.
Jose Luis Manjarrez, a spokesman for Mexico's attorney general's office, told Reuters that "some of the people who abuse each other on YouTube seem to have insider knowledge of the drug gangs".
He added: "The messages give the impression that members of organised crime are participating. We can't rule out, but neither can we be totally sure, that this is being used as a form of communication by organised crime."
YouTube, meanwhile, insisted it "does not allow videos showing dangerous or illegal acts". ®
Bootnote
Ociel Cardenas was last month extradited to the US on 17 charges including drug importing and distribution, threatening a federal agent, and money laundering. He pleaded not guilty in a Houston court last week and faces trial on 2 April.
Cardenas's private army Los Zetas are reputed by some to be ex-army special forces and other "mercenaries" who may have received military training in the US. Others reject this claim.