This article is more than 1 year old
Hayabusa probe to limp back to Earth
Ion engines might enable homecoming
Japanese scientists will next month attempt to guide the country's sickly Hayabusa probe back to Earth, New Scientist reports.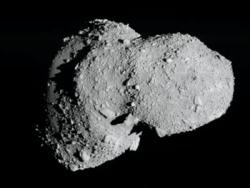 Hayabusa rendevouzed back in November 2005 with asteroid Itokawa - at a distance of 186 million miles (300 million km) from Earth - with a view to collecting the first-ever samples from the distant body. The plan was to blast pellets into the asteroid's surface and capture the resulting dust.
However, it appears the pellets were not fired "because the craft's onboard computer sent conflicting signals to its collection instruments". To add to the probe's woes, a fuel leak left its 12 chemical thrusters without juice, apparently dooming it to a lonely death in deep space.
In May 2006, however, Japanese space agency JAXA reestablished contact with Hayabusa and determined that it still carried its xenon gas payload which offered the possibility of using the four ion engines to guide the craft home.
Tests of two of the ion engines - which "ionise xenon gas and then use electric fields to accelerate the ions" - proved positive. A further test of a third ion engine will probably be unnecessary, New Scientist notes, because Hayabusa can limp home on just two. Mission manager Jun'ichiro Kawaguchi told the magazine: "As of today, [there are] no fatal problems to start the ion engines."
It's not quite that simple, though. Back at the end of 2005, the failed chemical thrusters were already "compensating for the earlier loss of two of three stabilising reaction wheels". Kawaguchi elaborated: "The spacecraft suffers from many problems and the single [stabilising] reaction wheel left onboard is the only device we can rely on for the ion engine operation. We are currently updating the onboard software to allow this configuration."
JAXA is looking to gently nudge Hayabusa back onto the right track at the end of March. ®
Bootnote
Whether or not Hayabusa ever gets back to Earth with or without asteroid samples, the mission did provide some interesting data.
Analysis of photos of 535-metre Itokawa, along with measurement of its gravitational field revealed it's nothing more than a highly-porous collection of rubble - possibly comprised of the debris of an earlier asteroid collision.